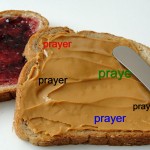 Every morning, when my kids were in school, I packed them a lunch.  Not just any lunch but a lunch covered with prayer.
School, even then, was a place of worldly influence and often persecution for kids who went to church.  So, I took lunch prayers very seriously. 
As I fixed the lunches, I prayed over every part then once completed, I prayed over the bag itself.  I prayed that God would touch their lives, give them direction and create in them a heart of worship.  
Years later, my oldest son was home to visit. He was active in his church and having newly married, established a Christ centered home.  As we were chatting, he asked me if I remembered a kid he went to school with.  I told him no, I didn't remember this boy. 
My son laughed and told me that he was the kid that always stole his lunch from him at school!  (I wasn't aware this had gone on) When I asked if he ever got his act together, Todd told me the guy now pastored a church!  God is faithful, in ways we can't even imagine! 
Sometimes, our prayers are evidenced by committed lives or changed circumstances. Other times, we stand in faith, knowing that God uses the hard things in our life to manifest compassion for others (II Corinthians 1:3-4) 
Every prayer is an answered prayer. God never ignores the prayers of his children! However, God is sovereign; He does whatever necessary to accomplish His perfect will in the lives of those who truly seek Him.  
Sometimes, God even uses 'us' in unlikely ways to bring Godly influence into the lives of others. Cover every area of your children's lives with prayer.  Even though we often don't see the miracles that our prayers have influenced; prayer is powerful!
James 5:16   Confess your sins to each other and pray for each other so that you may be healed. The earnest prayer of a righteous person has great power and produces wonderful results.