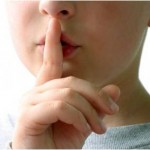 When I was a little girl, my aunt had a close friend, Mary Elizabeth.  Everybody called her Tony. Tony had the gift of gab; she could talk faster than anybody I've ever seen in my life!  She talked so fast that she didn't even seem to breathe. Even when somebody would talk to her, she kept right on talking!  
It's so easy to spend all of our time in prayer talking.  There are so many needs, not only for our own family but for friends and the world around us.  Sometimes our heart feels so eager to pray that we enter into God's presence, falling to our knees with our mouth going a mile a minute.   
Admittedly, God's word does say that we should pray continually, without ceasing; but, an important part of prayer is listening.  Just like when we talk to each other, there is a time to speak and a time to listen.  God created us for relationship; a dialog, not a monolog.  
When we don't take time to listen, we have a difficult time knowing God's perfect will. When we're familiar with the sound of His voice, it's easier to trust; God doesn't always answer our prayers the way we expect. When the answer is not what we thought it would be, we may not understand. When we fully trust the Lord we let go and have faith to trust whatever His answer is.
The next time we pray, let's remember to not only enter His courts with praise and thanksgiving (Ps. 100:4) but to wait with listening ears before we exit. 
Psalms 46: 10 Be still, and know that I am God; I will be exalted among the nations, I will be exalted in the earth." 
Prayer:  Father, give me listening ears so that I not only tell you my problems, but listen to your directions.  Show me your answers in your Word and through the Holy Spirit's direction in my heart. I love you. Thank you. Amen.
Scripture reference: Psalms 100:4   Enter his gates with thanksgiving and his courts with praise; give thanks to him and praise his name.
The Holy Bible, New International Version®. Pradis Grand Rapids: The Zondervan Corporation, © 1973, 1978, 1984.