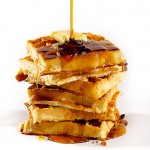 My 9 year old grandson, Max, was the only one at school today; his brother and sister were sick.  When I picked Max up after school and asked how he was, he grinned from ear to ear and said, "I'm just GREAT!  This morning, I had Mom all to myself."  He shut his eyes, as if savoring the memory.
He proceeded to tell me about his extravagant morning of individualized attention.  He said usually in the morning, his mom is all about getting stuff ready and he gets cold cereal.  But this morning, with both his brother and his sister in bed with fevers, it was, and I quote, "all about Max".  He said "Mom was all over me"; "Maxie, do you need anything? Maxie how are you doing, are you ready to go yet?"   
He further revealed that breakfast this morning had been HOMEMADE FRENCH TOAST with hot syrup, served to him personally.  He said he didn't have just one piece, but as many as he wanted!  He declined to say how many pieces that was. 
As we turned into his neighborhood, he leaned back in the seat and sighed, "Tomorrow, if I'm still the only one well, I'm gonna ask for some bacon to go with my French toast–."  In today's busy world, individual attention is always a special treat! 
One of the many things that I love about being a Christian is that our God cares for us individually. Even though God's grace is extended to all people, it requires an individual response.
We are created for personal relationship with God but satan does everything he can to spoil that intimacy with our Lord. When Jesus hung on the cross, He was paying the individual price for your sin. It was, "All about YOU."
John 1:12  To all who received Him, to those who believed in His name, He gave the right to become children of God.