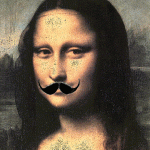 After dinner, my little grandson was sitting on my lap.  He looked at me with those big 4 year old eyes and very seriously said, "mamaw, kiss me on the lips."  I told him, no, but I'd kiss him on the cheek, and I did.   
He insisted, "mamaw, I want you to kiss me right on my lips!"  And he puckered up his little mouth.  I hugged him and said, "Maxie, someday you will kiss your girl friend on the lips and your wife on the lips, but mamaw is not going to kiss you on the lips."  
He said, "oh."  Then he said, "Well mamaw, then can I lick your lips with my tongue?"  Momentarily I was speechless — recovering, I said, "WHY on earth would you want to lick mamaw's LIPS?"   He very innocently said, "Because I want to see if your moustache tickles me like Daddy's does." 
It's so easy to miss things in our lives that are so obvious to others! An attitude of self righteousness, a selfish heart, an arrogant spirit; all these things are easily seen by those around us but most often not noticed within ourselves.   
The scripture says we should look at our own heart before we examine the ways of others. (Matthew 7:3) satan would much rather we pick at each other instead of taking a serious look at our own faults.  As long as we ignore our personal shortcomings, we don't turn our weaknesses over to Jesus so the Holy Spirit can teach our heart to love with perfect love. 
The next time we begin to criticize what somebody is doing, we need to say,
"Search me, O God, and know my heart; test me and know my anxious thoughts. See if there is any offensive way in me, and lead me in the way everlasting." (Psalms 139: 23-24) 
Prayer:  Father, help me to first examine my own heart before I examine the heart of anybody else. Make me sensitive to your Spirit so I'm aware of my own shortcomings. Amen.
Scripture Reference:
Matthew 7:3  Why do you see the speck that is in your brother's eye, but do not notice the log that is in your own eye?