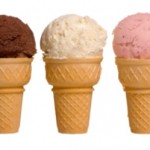 Philippians 2:12b-13
One of my grandsons loves Cookies 'N Cream ice-cream. His brother, on the other hand, prefers simple unadorned chocolate. Their sister embraces a mix of the two viewpoints.  Sometimes, she prefers simple, other times, she prefers elaborate taste combinations.  She says it just depends on how she feels that day.
God has made each of us different; different talents, different attitudes, family backgrounds, experiences, likes/dislikes and styles.  We all have our own "flavor." The important thing is that we choose to love the Lord with all of our heart and seek only those things that please Jesus.
Being a Christian isn't about rules or regulations, it's about a relationship. When we have a personal relationship with Jesus, our lives and attitudes reflect that intimacy. As we grow in Christ, our deepening intimacy is revealed in every area of our life.
No matter how much we want to; we can not change anybody but ourselves. But, we do influence the lives of those around just as those around us influence us. As we spend time in God's Word, make time for prayer and take time to spend in fellowship with God's people, we become more and more Christ like.
Philippians 2:12b-13 "…work out your salvation with fear and trembling; for it is God who is at work in you, both to will and to work for His good pleasure"
Prayer:  Lord, help me to always realize that you created each of us in your own image and that you love each of us individually. You did not instruct us to go out and make disciples of ourselves, but rather disciples of you. Help me to know you intimately so that others see you in me.  Amen.