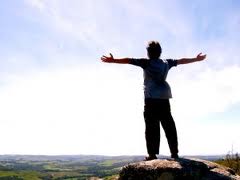 My husband had been out of town on business for almost a month!  When I arrived at the airport, I learned His plane had been delayed in Chicago because of weather conditions.  
News of the extended wait was difficult.   Knowing that I could do nothing to shorten the wait, I stood watching the planes land, praying in my heart for those hurrying by and sipping a cup of coffee. 
Waiting is always hard; especially when we wait for something important!  In this age of instant gratification, waiting is even more difficult because we aren't used to it.  The Bible speaks a lot about waiting; the words 'wait' or 'waiting' are found 67 times in the scriptures.
Satan's main goal is to destroy our relationship with our Lord and he gladly uses 'wait time'.  As we wait, satan tries to make us miserable, taunting us, 'where is your God NOW?' One of satan's most successful tools is doubt and waiting is the perfect time for application.  
Scripture encourages us to find tasks to busy ourselves with while we wait.  Jesus illustrates in Luke 19:11-27 the importance of working while we wait.  We all know that time passes more quickly when we are busy.
God uses everything in our lives, including wait time, for His purpose (Romans 8:28). Even the distractions that are meant for evil are turned around and used for good (Genesis 50:20).  When we focus our eyes on circumstances, our hearts don't see the work Christ is doing in our lives and in the lives of others around us; waiting is hard.  Isaiah 40:31 says that when we wait on the Lord, our strength is renewed. Psalms 33:20-22 says there is hope when we wait on the Lord.
In Ephesians 6, we are given directions for how to stand strong as we wait. Sometimes, when we have done all we can; after we have put on the full armor of God, we need to simply—- stand strong and—wait.   
Ephesians 6: 13,  Therefore put on the full armor of God, so that when the day of evil comes, you may be able to stand your ground, and after you have done everything, to stand.