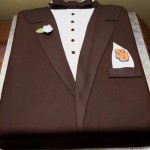 HERE COMES THE GROOM!
Revelation: 21:2 
For centuries, the church has been saying "today we are living in the end times."  However, today, more than any other time in history, the signs of the times indicate the end is near.  Certainly, Christ's return is closer today than it was yesterday.
Sometimes I get a little scary when I think about the end times and everything I know suddenly changing.  Being snatched up and changed in the twinkling of an eye doesn't sound like it would be a smooth introduction to eternity. But, I'm excited too because this is the promise Christians have been given for thousands of years.
I love the way God uses everyday illustrations to explain spiritual truth. According to the Bible, we are to be the "Bride of Christ."  I remember when I was young and ready to marry.  I was excited, yet a bit fearful of starting a totally different life as a wife.
For what seemed like forever, plans were made.  Plans to set up my own house, to provide a loving home for my beloved.  It seemed the "day" would never really arrive!  Finally, the day did arrive.  My bridegroom became my husband and all the fears fell away as we began our life together.
When Jesus returns it will be the same way.  His bride, the church; the new Jerusalem, you and me, have planned and anticipated His coming for over two thousand years. Soon, the wait will be over and our bridegroom will be at the door.  He will sweep us up and take us to enjoy the pleasure of his company forever and ever!
There is nothing to be fearful of! Just as a young girl waits for the day she is a bride, we wait for the day when we will finally become the Bride of Christ. Even better than our earthly lives, this new life will be without pain, without conflict, without problems or worries.  Come for us quickly, Lord Jesus!
Revelation: 21:2  I saw the Holy City, the new Jerusalem, coming down out of heaven from God, prepared as a bride, beautifully dressed for her husband.
Prayer: Lord Jesus help me to always keep in mind how short our time is here. Show me how to make use of the days to win souls and influence the world around me for your namesake. Come quickly, Lord Jesus. Amen