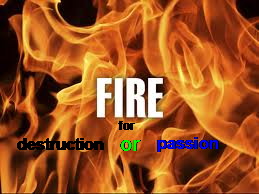 Today, I was so MAD that I thought I would just blow UP!  Rarely do I get this angry, but, there it was. 
Usually, I can keep a tight rein on my temper, but, mercy, today was an especially rough challenge!
Years ago, I prayed that God would remove this horrible temper; surely it was of the devil.  To my amazement, God told me this "fire" was a gift, from Him, not a curse from his nemesis. Whaaaat?  Hmm, interesting; fire as a gift from God?
Fire can be used for good, or it can be used for destruction. Fiery personality can be cultivated as anger, or as passion to grow spiritual fruit. It is my choice which direction I allow this fire in my personality to go.
It is important that I understand that both responses require my participation.  Satan, by himself, can't make me fly into a rage or be vindictive.  And, the Holy Spirit will not MAKE me be responsive instead of reactive. In every circumstance, I make a choice about how to respond to the situation before me.  (Romans 7:4)
Do I REACT in the flesh, or, do I RESPOND with the fruit of the Spirit?  Most often, I can't control circumstances. But, I DO have full control over how I let those things affect my attitudes, my actions AND my relationship with the Lord. 
I must remember, as a Christian, I have the strength and direction of God's Spirit, in me through prayer and Bible study.  The discipline required to respond to the Spirit instead of react to the flesh comes with practice.  Self-discipline is an important part of submission to God.
Satan knows that anger and bitterness of heart not only ruins relationships but can separate me from God (Mark 11:25). Discouragement and frustration undermine my faith and hinders both my testimony and my work for God's kingdom.  Do I allow the fire to burn as anger or as passion to do good? Fire to destroy or passion to bear good  fruit, the choice is mine.   
Galatians 5:22-23 "But the fruit of the Spirit is love, joy, peace, patience, kindness, goodness, faithfulness, gentleness and self-control–."