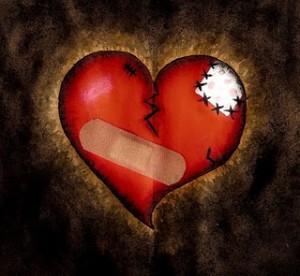 My grandson is three years old and terrified of mixing bowls!
Recently, when he had a stomach virus, his Mama handed him a big glass mixing bowl to throw up in.
 The next week, when she got the (now washed and sterilized) big bowl down to make pancakes; he jumped up from the table and started running down the hall hollering "NO NO NOT THE BOWL MAMA! Not the BOWL!"  Of course, the bowl wasn't what made him sick! 
As mature adults, we chuckle at the missunderstanding.  But, we do the same thing when we turn away from church because somebody hurts us. Feelings of pain and rejection can scar our hearts deeply. Because we were hurt at church, by church people, we run from the body of Christ.   
Satan knows that 'we' love the Lord and can't be easily discouraged with his "usual" tricks. He knows our personality and is aware of every tender spot in our heart. The devil has no remorse in using the body of Christ against itself. Like the bowl, sometimes, Christians are simply utensils.  
Jesus died to provide us forgiveness of sin and access to a relationship with a Holy God. Satan's goal is to ruin our intimacy with Jesus. When we separate ourselves from the body of Christ, it is the beginning of our loss of that intimacy. (Psalms 66:18) 
God created us for fellowship, first with Him then with each other. Anything that discourages us from fellowshipping with other Christians is a deception created by satan. When we believe that deception; we are robbed of the strength and encouragement found in the body of Christ.   
Since satan's number one goal is to separate us from Christ; alienating us from each other is a good first step. (Matthew 5:23-26) If we let him, the devil will use the person sitting on the pew beside us to keep us from relationship.   
Ephesians 4:32 Be kind and compassionate to one another, forgiving each other, just as in Christ God forgave you.
Prayer:  Father, help me to forgive those who have hurt me.  Give my heart understanding  that it is satan, not people, who cause pain.  Show me how to overcome in love and not focus on the turmoil. I love you. Amen.
Scripture references:
Psalms 66:18 If I had cherished sin in my heart, the Lord would not have listened
Matthew 5:23-26 "Therefore, if you are offering your gift at the altar and there remember that your brother or sister has something against you,  leave your gift there in front of the altar. First go and be reconciled to them; then come and offer your gift.
"Settle matters quickly with your adversary who is taking you to court. Do it while you are still together on the way, or your adversary may hand you over to the judge, and the judge may hand you over to the officer, and you may be thrown into prison. Truly I tell you, you will not get out until you have paid the last penny.