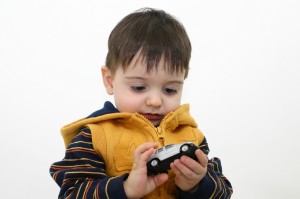 Children love to worship! One Sunday morning, in Children's Church, one little boy was singing with all his might. 
He was jumping up and down, laughing and dancing; all the while holding a toy truck. 
With so many children standing close to him, the teacher was  afraid that he'd bonk one in the head. So, she went to him, hugged him and said, "Johnny, why don't you put the toy down while you're praising God?" 
With a look of total disbelief, he proclaimed, "I can NOT do that!" She asked, "Why?" He responded, "Cause I'm praising Jesus with my truck!"  Needless to say the teacher cleared the area around his praise dance and let him praise on. 
One of the most important every day decisions is how I will serve God with what I have 'in my hand' right NOW; my work ethic, my marriage, my friends, where I go and how I live. All these life decisions and the commitments they hold, should be used as instruments to praise Jesus.  
Whether I'm young or old, every day I choose whether or not I will serve God like a child; with everything that I have. No matter what I'm doing, no matter what I have at hand or in my hand, God should be glorified.   
Does the world see a childlike trust in God's sovereignty in my every day attitudes and actions, no matter what circumstances are? Am I using Godly wisdom in planning my daily activities and my future goals?  
What am I doing with what I have "in my hand", right now?   
(Luke 18:17) I tell I the truth, anyone who will not receive the kingdom of God like a little child will never enter it.
Prayer:  Father, I love you so much!  Help me to praise you with whatever I have in my hand. Whatever circumstances is at hand, I want to lift my hands in worship. Amen