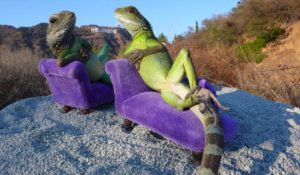 The No Name Lizards
Acts 17:22-23
My grandson, Quinlan, was showing me his two pet lizards. When I inquired what their names were he quickly responded, "They don't have names, they are the no name lizards."  After a moment's thought, he added, "I guess I could call them Lizard Number One and Lizard Number Two."
The people of Athens, Greece, had so many gods that they actually erected a monument to the "unknown god." This memorial to the "unknown" was "just in case." They were so concerned with worshipping all the gods that they didn't want to risk missing one.
We don't erect official monuments to our "gods," but our time is carefully rationed and planned to include everything. Our calendars and appointment books are filled with dates and times of activities that are so important we write them down so we don't forget.
Often, we reinforce our memory with sticky note reminders of haircuts, dentist appointments and lunch with friends.  We want to make SURE we remember!
However, we rarely plan a definite time for devotions, prayer, Bible study or even fellowship at church. We often keep these "God appointments," as haphazard; "do when I can work it in" commitments.
God created us for relationship, even sending His own son to die so sin could no longer separate us from Him.  Why is it that we rarely put Him at the top of our list?
Our God even sent His Holy Spirit so we could have intimacy and come boldly before Him to have relationship (I Corinthians 2:9-11, Romans 8:26-27).  In His Word, He instructs us to take time for fellowship so we can find encouragement within the body of believers (Hebrews 10:25).
We don't erect monuments to "the unknown god," but our busy lives are a monument to our neglect of the one true God.  Take time; make time to worship the only God, the King of Kings, Lord of Lords.  You KNOW who He is.
Acts 17:22-23 Paul then stood up in the meeting of the Areopagus and said: "Men of Athens! I see that in every way you are very religious. For as I walked around and looked carefully at your objects of worship, I even found an altar with this inscription: TO AN UNKNOWN GOD. Now what you worship as something unknown I am going to proclaim to you.
Prayer:  Father, I love you and I'm so thankful that you want to spend time with me. Help me to always remember how much you love me. Help me to share my heart with you. Show me how to make time in my busyness to enjoy your presence. Amen.
Scripture References:
I Corinthians 2:9-11 9 However, as it is written: "What no eye has seen, what no ear has heard, and what no human mind has conceived the things God has prepared for those who love him 10 these are the things God has revealed to us by his Spirit. The Spirit searches all things, even the deep things of God. 11 For who knows a person's thoughts except their own spirit within them? In the same way no one knows the thoughts of God except the Spirit of God.
Romans 8:26-27 26 In the same way, the Spirit helps us in our weakness. We do not know what we ought to pray for, but the Spirit himself intercedes for us through wordless groans. 27 And he who searches our hearts knows the mind of the Spirit, because the Spirit intercedes for God's people in accordance with the will of God.
Hebrews 10:25 not giving up meeting together, as some are in the habit of doing, but encouraging one another—and all the more as you see the Day approaching.