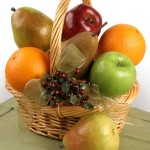 Years ago, we lived in a house that had a peach tree in the backyard.  All summer long, I watched as the buds went from bud to flower to fruit to ripen.  As I watched the fruit's progression, I thought about the wonderful sweet, juicy cobbler that would be my reward at summer's end.  
Finally, the day came when the fruit was perfectly ripened!  Overjoyed, I gathered my harvest and went to my kitchen to prepare the cobbler. To my dismay, when I opened the fruit, it was full of worms!  Peach after peach was thrown into the garbage. All the fruit had looked great on the outside. But, inside, the worms had gnawed away the flesh until all that was left was rot! 
A gardener told me that there is more to growing fruit than letting it develop.  The tree must be cultivated; kept free from destructive vermin and blight.  The next year, I carefully cultivated the tree and had an abundant crop of sweet fruit!  
To make us unfruitful satan tries to prevent us from cultivating the fruits of the Spirit in our lives. The outward manifestation of the fruits of the Spirit is what sets us apart from the world.  Life is often hard; we face challenges, turmoil and difficult decisions every day.  The world is watching how we, as Christians, respond to these challenges.  
When we actively cultivate the fruits of the Spirit in our lives, the ways of the world (the sinful nature) become more obvious to our spiritual eyes and are easier to weed out. If we fail to weed out the sinful nature, we may look like great Christian fruit on the outside, but on the inside, we are full of worms.  Given time, those worms will eat away at our heart. Eventually our spiritual fruit; our witness and our relationship with our Lord, will be spoiled. 
Just like fertilizing and caring for the peaches, it is up to US, with the help of the Holy Spirit, to weed out the sinful nature that would prevent the growth of good spiritual fruit .  
Gal. 5:22-24  But the fruit of the Spirit is love, joy, peace, patience, kindness, goodness, faithfulness, gentleness and self control. Against such things, there is no law. Those who belong to Christ Jesus have crucified the sinful nature with its passions and desires.