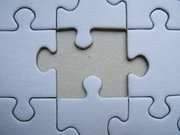 The MISSING PIECE
John 15:14-16:
Have you ever put together a jigsaw puzzle? Every piece is vital to the whole. If one piece is missing, the puzzle isn't completed. We can't take a piece from some other puzzle and use it to take the place of the missing piece. Only the piece intended for that puzzle will complete the picture.
Life is like a puzzle. A lot of different pieces fit together to make our life "picture." No matter how perfect our life seems to come together, when we are missing the "God piece." the picture is not complete. Christ is the only piece that will make our life picture whole.
We were created for relationship with God. (Romans 8:14-15) When we try to borrow "pieces" to fill that relationship need; activities, going to parties and spending lots of money, nothing "fits" in that hole. Only Jesus can make our life complete.
The Church is also made up of pieces; each piece as important as all the others. When any one piece is missing, the church lacks unity and mission. Christ is the center piece that keeps the church together to do the work He has set us to do. (1Corinthians 12:12-27) Only Jesus can bring the body of Christ together and make us effective.
Both in individual lives and in the church, a personal, intimate relationship with our Lord is established the same way any relationship is made; by spending time together.   If it feels like something is missing, in your life, or your church, take time; make time to know Jesus intimately. (Psalms 100:2-3)  Read His Word, talk to Him, and worship Him.
John 15:14-16: You are my friends if you do what I command. I no longer call you servants, because a servant does not know his master's business. Instead, I have called you friends, for everything that I learned from my Father I have made known to you. You did not choose me, but I chose you and appointed you to go and bear fruit—fruit that will last. Then the Father will give you whatever you ask in my name.
Prayer: Father, when I have days when nothing seems to fit and I feel lost; help me to remember that when I put you first, the pieces come together. I love you, thank you for planning my life so that all things will work together, for my good.
Scriptural References:
Romans 8:14-15 "For as many as are led by the Spirit of God, they are THE SONS OF GOD, For you have not received the spirit of bondage again to fear; but you have received the Spirit of adoption, by which we cry, ABBA, FATHER".
1Corinthians 12:12-27 "For as the body is one and has many members, and all the members of that one body, being many, are one body: so also is Christ. For the body is not one member, but many … And the eye cannot say to the hand, I have no need of you; nor again the head to the feet, I have no need of you … the members should have the same care one for another … Now you are the BODY OF CHRIST, and members in particular"
Psalms 100:2-3 Worship the LORD with gladness; come before him with joyful songs. Know that the LORD is God. It is he who made us, and we are his; we are his people, the sheep of his pasture.