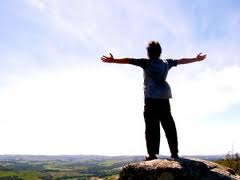 By the time day's end arrives, do you feel like you've fought a war? 
There's a reason for that; you are actually in a battle. 
Everyday, there is a battle to steal our joy, our health and our relationship with our Lord.  Satan's main goal is to make us a miserable, sick, poor, bitter, unhappy failure.   
When we focus our eyes on circumstances, our hearts don't see the work Christ is doing in our lives and in the lives of others through the circumstances. It is human nature to see only what is going on in front of us.  
God has a plan for our lives. (Jeremiah 29:11) The plan may not be exactly as we envision it, but it is perfect for what God wants to accomplish both in us and through us.  
The Bible says that ALL things work for our good, not just the things that feel good to us. (Romans 8:28) Sometimes, the 'good' worked through our current circumstances isn't seen for awhile.  
The Word says, when we have done all we can; after we have put on the full armor of God; helmet of salvation, shield of faith, sword of truth, we need to simply—- stand.   
Wait on God to do what it is He wants to do to accomplish His perfect plan in our lives and the lives of those we love. Remember, we work in the 'here and now' and God works through lifetimes. 
Ephesians 6: 13,  Therefore put on the full armor of God, so that when the day of evil comes, you may be able to stand your ground, and after you have done everything, to stand.  
Prayer: Father, help me to live in your perfect will. Show me the direction I should take, the goals I should set and how to reach them. And having done all—to stand. Amen.
Scripture References:
Jeremiah 29:11  For I know the plans I have for you," declares the Lord, "plans to prosper you and not to harm you, plans to give you hope and a future.
Romans 8:28  And we know that in all things God works for the good of those who love him, who have been called according to his purpose.