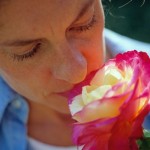 In honor of my 50th birthday, my Aunt Mary express mailed me a dozen fresh hand picked rosies, lovingly selected from her personal rose garden in Washington State. She chose each bloom not only for its beauty, but its intense fragrance.   
As soon as I lifted the lid on the box, the heady warmth of their perfume flooded the room!  Wherever I placed the blooms, their fragrance embraced me.  The blooms released their sweetness without effort, they didn't plan it or time it; their fragrance was a natural result of their being rosies.  
One of the things that I love about the Word of God is how every day things, that we're all familiar with, are used to illustrate spiritual truth.  In II Corinthians, Christ in us is described as an "exquisite fragrance."   
When we spend time in prayer and in the Word, the sweetness of Christ permeates our hearts and attitudes; releasing the fragrance of a gentle spirit and a forgiving heart. I want to be a smelly Christian.  
 II Corinthians 2: 14-15—In the Messiah, in Christ, God leads us from place to place in one perpetual victory parade. Through us, he brings knowledge of Christ. Everywhere we go, people breathe in the exquisite fragrance. Because of Christ, we give off a sweet scent rising to God, which is recognized by those on the way of salvation—an aroma redolent with life.  (The Message)