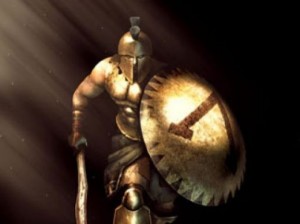 My grandson (age 4) loves gloves, he calls them glubs. Whenever he goes to the doctor or dentist, he isn't interested in a "good boy sticker." He wants a pair of the colored vinyl gloves like the doctor had on.
I found a pair of costume skeleton gloves for him.  He turned them over and smelled them; they smelled really bad because of the embossed bone print. He looked at me and grinning big said, "thanks, mamaw, they JUST what I been needin'!"  If I'd only known—I could have gotten them for him sooner.  
Later, as I turned to put supper on the table, there he stood; WEARING 2 grocery store bags! One he had taken a pair of scissors and cut two cuts in the bottom, put his legs through the cuts and pulled the bag up so the handles went over his shoulders, making grocery bag overalls. 
 The second bag he had put across his back, putting an arm through each handle. The bag puffed over his shoulders like a balloon cape. Underneath his bag outfit, he wore a pair of black shorts. He had put a blue plastic mixing bowl on his head, a pair of black knee socks on his feet and his new black bone gloves on his little hands. 
 Stunned, I said, MAX! what are you doing?  He stood there, hands on his hips and proclaimed, "I'm Bag Man, I fight evil all over!"  Before I could regain my composure, he held out a black gloved hand and said, "Smell my hand, it has vapors on it to fight evil."  From Bag Man's bowl helmet to the 'protective guiding socks'; he explained that each piece of his armor had special 'reasons.'
In Ephesians 6, God uses the armor of a warrior to illustrate how important our Christian armor is.  As Christians, we are in a battle, a battle where the victory is certain but the battle is tough.  Every piece of our armor has 'reasons.'  If we neglect to dress for battle, or go into battle with a piece of our 'armor' missing, we risk serious spiritual injury.  
Every day, remember, dress for spiritual warfare. We need more than just the helmet of salvation to go to war. We need the shield of faith, the sword of the spirit and the shoes of the Gospel of peace. We actually are in a spiritual battle; put your war clothes on.   
Ephesians 6:13  Therefore put on the full armor of God, so that when the day of evil comes, you may be able to stand your ground, and after you have done everything, to stand.  
The Holy Bible, New International Version®. Pradis. Grand Rapids: The Zondervan Corporation, © 1973, 1978, 1984.