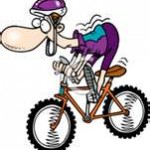 I had been having trouble getting to the gym to work out. There is always time for "death by chocolate" but no time for "death by sweat". Being at that blessed "prime heart attack" age, I KNOW what I need to do, it is just that I lack the discipline to get it done. The obvious conclusion: DO IT.   
At the gym, I keep my radio in my pocket and wear headphones; find a good beat and go for the burn! I was riding the stationary bike and my radio shut off!  While I was struggling with the dials, trying not to fall off  head first;  I was getting SO FRUSTRATED!  
The girl running on the treadmill next to me noticed I was struggling and said, "problem"? I said "yeah, I lost my beat and I don't know WHAT is wrong, it's like my radio just turned itself off!" 
She nodded, looking puzzled, watched me for a second then said, "Have you tried putting the headphones on?" The earphones had slipped off and were around my neck! Sometimes, technology leaves me clueless.
We can be so dedicated to keeping ourselves healthy!  We focus on a routine at the gym, walk at a certain time each day or maybe we start the day with a regimen of exercise.  We discipline ourselves because we KNOW if we don't we will become physically weak and unhealthy.  
It is good to be health conscious! How much more important is it to be disciplined in our spiritual regimen?  When we are pressed for time or a bit tired, our devotions and/or Bible study are often the first thing we become lax in.  Like exercise, the benefits of a committed devotion time are long term.
 Our bodies get old and die no matter how much we exercise.  Our spirit will live for eternity. Both physical fittness and spiritual fittenss are important to live a healthy life. Determine to keep your body and your spirit strong and fit.   
(I Timothy 4:8 For physical training is of some value, but godliness has value for all things, holding promise for both the present life and the life to come.)