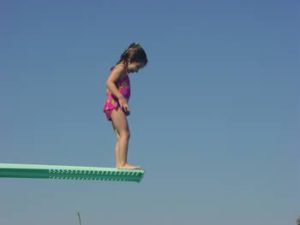 Make a Shout Out!
We were at a swim competition with our 8 year old granddaughter, Ally. While the young swimmers were warming up, our son in-law was talking with another parent.
Suddenly, he stopped mid-word and took off running! Davy, all the way across the pool, over the noise, the music and many voices had heard the sound of his daughter's voice as she screamed, "Daaaaaaady!"
He ran, pushing people aside, jumped over the 'do not cross this line' rope and snatched his frightened child up in his arms. He comforted her fears and encouraged her to make the dive into the deep water in the pool she had never swam in before.
As she walked out onto the board, her Dad kept talking to her, reminding her of other dives she had successfully made. With each trembling step out onto the diving platform, he told her she was ok, he was right there, she could do this.
Ally stood poised on the end of the board, her Dad whispering, "You can do it, I KNOW you can." She sprang up, arched forward and made a perfect dive; barely a splash was made as she glided effortlessly into the blue water. Once that first dive into the BIG unfamiliar pool was made, she swam on to victory.
God loves His children with the same passion that we love our children. He hears when we cry out to Him and He responds immediately! (Isaiah 65:24) Being a wise Father, God does not snatch us out of circumstances and remove us from the situation. He stands with us, giving us strength and direction.
Life has troubles (John 16:33). Each life event works in harmony with every other event, to make us strong and capable. (Romans 8:28) No matter what 'life' brings to us, God has made a way to emerge victorious, through the guidance of His Holy Spirit and His Word. (Ephesians 6:10-17)
There is no struggle, no sin, no temptation, no hurt, no frustration—NOTHING—that can keep God's love from us (Romans 8:35-37) When we call out to God and stand strong instead of running, we are victorious over the trials of life and the wiles of the evil one.
Through the direction and encouragement of God's Word and the Holy Spirit, we know the basis of every attack of the enemy and how to stand firm (Psalms 18:1-3). When we call out to our heavenly Father in our moment of need; He not only hears, He comes to us to be near and talk us through to victory.
Pslams 18: 6 In my distress I called to the LORD; I cried to my God for help. From his temple he heard my voice; my cry came before him, into his ears.
Psalms 18: 9-10  He parted the heavens and came down;  dark clouds were under his feet. He mounted the cherubim and flew; he soared on the wings of the wind.
Prayer:  Father, help me to remember that you are always with me, you hear my every need.  You are sovereign; even when things are rough, you stand with me.  Amen.
Scripture References:
 Isaiah 65:24 It will also come to pass that before they call, I will answer; and while they are still speaking, I will hear.
John 16:33 These things I have spoken to you, so that in Me you may have peace. In the world you have tribulation, but take courage; I have overcome the world."
Romans 8:28  And we know that God causes all things to work together for good to those who love God, to those who are called according to His purpose.
Ephesians 6:10-17 Finally, be strong in the Lord and in the strength of His might. 11 Put on the full armor of God, so that you will be able to stand firm against the schemes of the devil. 12 For our struggle is not against flesh and blood, but against the rulers, against the powers, against the world forces of this darkness, against the spiritual forces of wickedness in the heavenly places. 13 Therefore, take up the full armor of God, so that you will be able to resist in the evil day, and having done everything, to stand firm. 14 Stand firm therefore, having girded your loins with truth, and having put on the breastplate of righteousness, 15 and having shod your feet with the preparation of the gospel of peace; 16 in addition to all, taking up the shield of faith with which you will be able to extinguish all the flaming arrows of the evil one. 17 And take the helmet of salvation, and the sword of the Spirit, which is the word of God.
Romans 8:35-37  Who will separate us from the love of Christ? Will tribulation, or distress, or persecution, or famine, or nakedness, or peril, or sword? 36 Just as it is written, "For your sake we are being put to death all day long; We were considered as sheep to be slaughtered." 37 But in all these things we overwhelmingly conquer through Him who loved us.
Psalms 18:1-3 I love you, Lord, my strength. The Lord is my rock, my fortress and my deliverer; my God is my rock, in whom I take refuge, my shield and the horn of my salvation, my stronghold. I called to the Lord, who is worthy of praise, and I have been saved from my enemies.