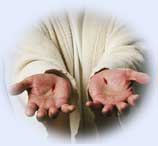 One of my memory devices is to write on my hands. Of course, I don't use my "handy reminders" for random thoughts. I just write important stuff on my hands. I do this because my hands are most often in front of my eyes; I can't forget what is right in front of me.
Jesus also has an important reminder on his hands; but not written in ink. He has a mark for me ENGRAVED on the palms of His hands.  The marks are not to remind Him of 'me,' but a reminder TO me of what was done at Calvary.
When I serve God with all my heart, many trials and temptations come my way. Satan tries to make me feel like I'm not important; a total failure! (John 10:10). One of satan's lies is that God doesn't REALLY care, if He did, why would I be going through "this?"
At those moments when satan says my God doesn't care, I remind myself that my God is the only god that wants a relationship with me. My God paid the price for my sin so I could know Him personally (Romans 6:23).
The gods of men and the world demand that I live harshly and follow strict rules (Colossians 2:20-23).  My God invites me into a relationship where my desires are changed by His presence in my life (II Corinthians 5:17-19).
My God sends His Holy Spirit so that my eyes are opened with new awareness to sin and then—shows me a way to step aside so that I don't fall into the trap set by satan (John 16:8-11,  I Corinthians 10:13).
The Spirit gives me both awareness and boldness to confront the issues in my life that would harm me (II Timothy 1:7). When those moments of confusion come and I'm frightened and question my worth, Jesus shows me the marks engraved on His hands.
Isaiah 49:16 See, I have engraved you on the palms of my hands; your walls are ever before me.
Prayer: Thank you, Lord Jesus, for giving your life at Calvary so my sins are forgiven. Thank you for loving me and wanting to be close to me. I love you and want to live my life for you. Amen.
 Scripture references:
John 10:10  10 The thief comes only to steal and kill and destroy; I have come that they may have life, and have it to the full.
Romans 6:23  23 For the wages of sin is death, but the gift of God is eternal life in[a]Christ Jesus our Lord.
Colossians 2:20-23  20 Since you died with Christ to the elemental spiritual forces of this world, why, as though you still belonged to the world, do you submit to its rules: 21 "Do not handle! Do not taste! Do not touch!"? 22 These rules, which have to do with things that are all destined to perish with use, are based on merely human commands and teachings. 23 Such regulations indeed have an appearance of wisdom, with their self-imposed worship, their false humility and their harsh treatment of the body, but they lack any value in restraining sensual indulgence.
II Corinthians 5:17-19 17 Therefore, if anyone is in Christ, the new creation has come:[a] The old has gone, the new is here! 18 All this is from God, who reconciled us to himself through Christ and gave us the ministry of reconciliation: 19 that God was reconciling the world to himself in Christ, not counting people's sins against them. And he has committed to us the message of reconciliation.
John 16:8-11 8 When he comes, he will prove the world to be in the wrong about sin and righteousness and judgment: 9 about sin, because people do not believe in me; 10 about righteousness, because I am going to the Father,where you can see me no longer; 11 and about judgment, because the prince of this world now stands condemned.
I Corinthians 10:13   13 No temptation[a] has overtaken you except what is common to mankind. And God is faithful; he will not let you be tempted[b] beyond what you can bear. But when you are tempted,[c] he will also provide a way out so that you can endure it.
II Timothy 1:7 7 For the Spirit God gave us does not make us timid, but gives us power,love and self-discipline.