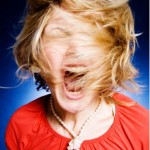 It was supposedly a 'kiddy' ride at the amusement park. When the ride operator's voice said, "please strap yourself into the seat and secure all loose objects", I began to have doubts. 
 I heard my grandson, Max, in the seat beside me, holler, "Hang on to the handles mamaw, so you don't go flying out of your seat and hurt yourself!"  Grabbing for the aforementioned 'handles', I knew, I knew I was in trouble. 
As my seat was jerked from side to side, I held on with all my might!  Stationary objects became weapons of visual assault because of the break neck speed we were spinning at. I was hurled around and down until I gasped for air! The noise was deafening! 
Then, I realized that if I could just focus my eyes on something stationary, the tumult around me would step back a notch.  Quickly, I riveted my eyeballs on my grandson's shoe.
The world around me was still spinning, but my mind quieted with the focus. After the ride, Max took my hand and said, "Mamaw, we need to go get a cold drink now because you used a lot of energy screaming in there."       Mercy! 
Sometimes, our life as a Christian is like a wild ride at the amusement park. We are living uneventfully when suddenly, life as we know it goes crazy! We feel like we have lost all control and one horrible thing after another assaults us.
We struggle to get right side up again but we feel we are trapped where we are and there is no escape!  Emotionally and mentally exhausted, we search for some focal point that will steady us amidst the chaos. 
Life can be rough, bad things DO happen to good people!  Jesus said there would be times like this. (John 16:33) When we take action and bring our focus onto Christ, we find a place of peace. 
The world is still crashing and screaming but our focus is no longer on the 'noise'.  He is our refuge, a place to go to and find peace in the midst of calamity. 
Remember: satan's main goal is to rob us of our relationship with Christ!  When we force ourselves to focus on Jesus instead of what's going on, satan's effort to rob us is made pointless. Is your life a wild ride today?  Focus on Jesus.   
Ps. 18: 1-2  I love you, oh Lord, my strength. The Lord is my rock, my fortress and deliverer. My God is my rock in whom I take refuge. He is my shield and the horn of my salvation, my stronghold.