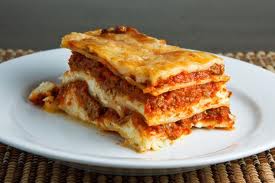 One summer, my mother and I signed up for a low fat cooking class. The dish we were to prepare was low fat lasagna with whole wheat pasta. We were told that lasagna's main downfall was the obscene amount of fat contained in the dish.
Chef tapped her wooden spoon on the countertop and informed us that making a few low fat ingredient substitutions would not change the flavor. But, it would make the dish contain less than a third of the fat and half the calories. She assured us that the "lighter dish" would look and taste the same.
The instructor was right in that the lasagna looked the same as the real thing, at least at first glance. However, after several mouthfuls, the "lack" started to be noticed. The richness was missing and the "satisfied" feeling just never developed. It was mildly satisfying, but not as good as the original version.
There are some people who believe that there are shortcuts and substitutions that can be made in serving God. When we search the scriptures to find "loop holes" so we can make substitutions; we deny the authority of God's Word.
When we look for easy Christianity, we are looking for permission to live the way we want to while expecting God's blessings to continue. The world lives by a different standard; God's laws are not hard laws. They are made for our good, to maintain healthy attitudes, relationships and activities.
I'm not talking about the "manmade" holiness that is dictated by hard rules. I'm talking about a committed Christ life, based on Biblical truth, not traditions and rules set by men. (Colossians 2:16-23)
God gives His Holy Spirit to convict of righteousness (John 16:8-10) and His Word to give us direction (2 Timothy 3:16-17).  The body of Christ gives strength in fellowship (Hebrews 10:24-25) and through sound preaching and teaching; God works to confirm His Word (Mark 16:20).
God has provided all the resources that I need to live a committed Christ life and have an intimate relationship with Jesus. What I do with those resources is up to me; how I serve God is a personal decision. I will be held accountable for my own decisions and my own life choices.
I John 5:3-5 This is love for God: to obey his commands. And his commands are not burdensome, for everyone born of God overcomes the world. This is the victory that has overcome the world, even our faith. Who is it that overcomes the world? Only he who believes that Jesus is the Son of God.
Prayer: Father, help me to live by the standards in your Word and not the standard of the world. Help me to recognize the difference between the traditions of man and the solid truth of scripture. Give me grace, purity and wisdom as I live each day for you. I love you. Amen.
Scriptural References:
Colossians 2:16-23 Therefore do not let anyone judge you by what you eat or drink, or with regard to a religious festival, a New Moon celebration or a Sabbath day. These are a shadow of the things that were to come; the reality, however, is found in Christ.  Do not let anyone who delights in false humility and the worship of angels disqualify you. Such a person also goes into great detail about what they have seen; they are puffed up with idle notions by their unspiritual mind. They have lost connection with the head, from whom the whole body, supported and held together by its ligaments and sinews, grows as God causes it to grow.
Since you died with Christ to the elemental spiritual forces of this world, why, as though you still belonged to the world, do you submit to its rules: "Do not handle! Do not taste! Do not touch!"? These rules, which have to do with things that are all destined to perish with use, are based on merely human commands and teachings. Such regulations indeed have an appearance of wisdom, with their self-imposed worship, their false humility and their harsh treatment of the body, but they lack any value in restraining sensual indulgence.
John 16:8-10  When he comes, he will prove the world to be in the wrong about sin and righteousness and judgment: about sin, because people do not believe in me;  about righteousness, because I am going to the Father, where you can see me no longer;
2 Timothy 3:16-17 All Scripture is God-breathed and is useful for teaching, rebuking, correcting and training in righteousness,  so that the servant of God may be thoroughly equipped for every good work.
Hebrews 10:24-25 And let us consider how we may spur one another on toward love and good deeds, not giving up meeting together, as some are in the habit of doing, but encouraging one another—and all the more as you see the Day approaching.
Mark 16:20 Then the disciples went out and preached everywhere, and the Lord worked with them and confirmed his word by the signs that accompanied it.