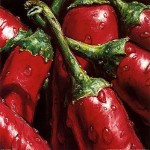 My grandson, Max, and I were at Subway ordering our lunch.  After choosing his favorite meat and cheese for his sandwich, Max said, "Wait, one more thing; put ONE slice of jalapeno firey hot pepper inside."  The clerk looked at me for guidance; I shrugged, clueless.   
The clerk asked, "Ok, so, just put it anywhere?"  Max nodded, explaining when he ate the sandwich, "without warning, WHOP!  There it would be; expected, but fiery hot and totally surprising!" Max shut his eyes tight, not seeing where the hot slice was placed and continued, "You just have to be ready so when it hits, you can get through it. It shakes you up but then, you go on." 
In our lives, we have times when WHOP!  Without warning, a fiery surprise hits us.  Like Max, we knew that coming to that 'fire' would be a certainty, but when it actually hits, it takes our breath away. Our knowledge of who God is and what's really going on gets us through it. 
Satan's number one goal is to rob us of intimacy with our Savior. No matter how well we live our Christian walk, 'fire' comes. God doesn't hurt us, sin and rebellion hurt us. Sometimes, we set the fire, sometimes, we get caught in the back draft of somebody else's fire. Regardless of how we find OUR fiery hot surprise, we must realize, we are not alone. Jesus even told his disciples that troubles were an everyday part of life. (John 16:33)
No matter how we get in the fire; we will choose what the personal result of the fire will be. Will we be angry and bitter or will we focus on Jesus, get through it and move on in Christ?   
The devil hopes the 'fire' will destroy our life and our relationship. When fire comes,  focus your eyes on Jesus and make it through.  The fire can shake  you up but it can't hurt your relationship with Christ unless you let it.
Ephesians 6:14-18  
Stand firm then, with the belt of truth buckled around your waist, with the breastplate of righteousness in place, and with your feet fitted with the readiness that comes from the gospel of peace. In addition to all this, take up the shield of faith, with which you can extinguish all the flaming arrows of the evil one.
 Prayer:
Lord Jesus, when the fiery trials of life come, help me to remember that these fiery times are a normal part of life. Show me how to overcome the fires and keep my eyes on you. Send me your Spirit to direct me and calm me. I love you, thanks for showing me how to walk through the fire. Amen.
Scriptural references:
John 16:33
"I have told you these things, so that in me you may have peace.(A) In this world you will have trouble.(B) But take heart! I have overcome(C) the world."