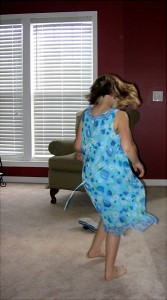 One day, I heard my granddaughter, Allyson, singing and laughing. Curious as to what was bringing her such joyful abandon, I peeked around the corner to find her dancing! 
Singing, she spun round and round so that her skirt flowed out from her like a floating cloud. Unaware of my presence, she laughed and skipped, spun and twirled.
When she finally saw me, she laughed all the more and invited, 'Come dance with me mamaw!'  We joined hands and for a moment twirled together as she sang her song.  I took a picture of her joyful dance so that I would never forget such a special moment shared between us.
When King David returned from Obed-Edom the Gittite's house with the ark of the Lord, he was so excited to have the ark of God that he began to dance with all of his might! (2 Sam 6:10-15) Totally lost in the joy of the moment, he gave no thought to appearances or audience.
The Bible gives many examples of dancing before the Lord; from the joyful abandon of praise (Psalms 149:3) to the evidence of emotional healing. (Psalms 30:11 He turns our mourning into dancing!).
Indeed, according to the Word, David, who loved to dance before the Lord, was a man after God's own heart. God created us for relationship; He delights in the things that bring us joy!
Take time to enjoy the Lord! Don't be content with merely showing up at scheduled church services. Find a quiet moment every day to talk to Him; to be with Him (Jeremiah 29:11-13).  Our God is the only God that wants a relationship with His people!
Tell the Lord about the things that make you laugh and the things that you plan and look forward to. He isn't a God that is far away.  When we draw near to God with a clean heart; He will draw near to us! (James 4: 7-8) 
Whether you dance before Him, sing to Him, talk about your day or just spend a quiet moment in shared intimacy, enjoy the presence of the Lord today.
Psalms 149:3-4  Let them praise his name with dancing and make music to him with timbrel and harp. For the LORD takes delight in his people; he crowns the humble with victory.
Prayer:  My Lord, I want to find intimacy with you. I want to know the sound of your voice, feel the breath of your Spirit and totally give my heart to you. Teach me to listen, to seek and to hear, whether you speak through your Word, or directly into my heart.  I want to hear you. I love you. Amen.
Scripture References:
2 Sam 6:10-15  He was not willing to take the ark of the Lord to be with him in the City of David. Instead, he took it to the house of Obed-Edom the Gittite.  The ark of the Lord remained in the house of Obed-Edom the Gittite for three months, and the Lord blessed him and his entire household.
Now King David was told, "The Lord has blessed the household of Obed-Edom and everything he has, because of the ark of God." So David went to bring up the ark of God from the house of Obed-Edom to the City of David with rejoicing. When those who were carrying the ark of the Lord had taken six steps, he sacrificed a bull and a fattened calf. Wearing a linen ephod, David was dancing before the Lord with all his might, while he and all Israel were bringing up the ark of the Lord with shouts and the sound of trumpets.
Psalms 149:3  Let them praise his name with dancing and make music to him with timbrel and harp.
Psalms 30:11 You turned my wailing into dancing; you removed my sackcloth and clothed me with joy–
Jeremiah 29:11-13   For I know the plans I have for you," declares the Lord, "plans to prosper you and not to harm you, plans to give you hope and a future. Then you will call on me and come and pray to me, and I will listen to you. You will seek me and find me when you seek me with all your heart. 
James 4: 7-8  Submit yourselves, then, to God. Resist the devil, and he will flee from you. Come near to God and he will come near to you. Wash your hands, you sinners, and purify your hearts, you double-minded.