All my books are available for sale on Amazon.  Most are published in both paperback AND Kindle format.  Here is a list of Amazon links for your ease in locating them. Remember, books are always a great gift for ANY holiday!  Please enjoy, and share!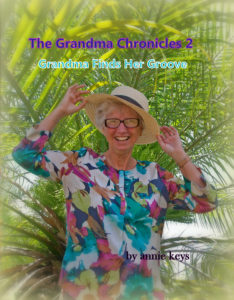 The sequel to The Grandma Chronicles.  Grandma continues to live life out loud, finding herself in lots of humorous circumstances and, as always, finding answers to life's issues in God's Word. (kindle not available)
https://www.amazon.com/Grandma-Chronicles-Book-Two-Groove/dp/1546601635/ref=sr_1_1?s=books&ie=UTF8&qid=1504113660&sr=1-1&keywords=grandma+finds+her+groove
++++++++++++++++++++++++++++++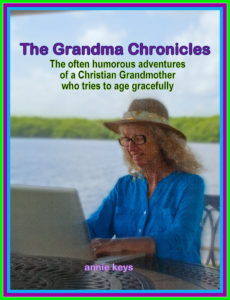 The Grandma Chronicles (fictional,humorous yet thoughtful; illustrated)
An often humorous look at "Grandma life." Always young at heart, her story is filled with discovery, laughter and humorous personal insight on the aging process. Grandma's chronicles explores everything from the joy of grandchildren, to adventure, and personal loss. Through it all, she tries to live a life outlined with God's mercy and filled with His grace. You will laugh, you will cry, and you will love Grandma.
https://www.amazon.com/Grandma-Chronicles-adventures-Grandmother-gracefully/dp/151955673X/ref=tmm_pap_swatch_0?_encoding=UTF8&qid=1472158129&sr=1-1
—————-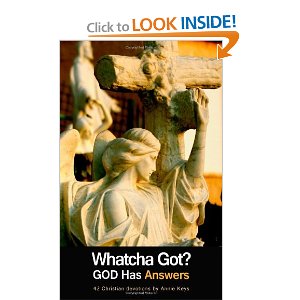 Whatcha Got? God Has Answers! (devotional)
A practical devotion book for anybody who has ever wondered "OH, wow, how do I deal with THIS?" Or if you ever wanted to know what you've "Got" to have to live a clean life in a dirty world. Written with humor and based on sound Biblical principles, there are 42 devotions. Why? Because–well–sometimes, we have so much STUFF we have to deal with that we just need more than 30 devos to get us through the month! No matter WHAT You Got, GOD has answers.
https://www.amazon.com/Whatcha-Got-GOD-Has-Answers/dp/148396325X/ref=tmm_pap_swatch_0?_encoding=UTF8&qid=1472158280&sr=1-1
—————–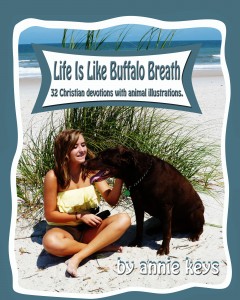 Life Is Like Buffalo Breath (devotional ; illustrated)
A delightful collection of Christian devotions that uses humorous and poignant stories about animals to illustrate Biblical truth. Thoughtfully llustrated with photographs of pets and nature, this unique devotional will make your heart smile as you grow in faith and knowledge of God's Word.
https://www.amazon.com/Life-Like-Buffalo-Breath-illustrations/dp/149230459X/ref=tmm_pap_swatch_0?_encoding=UTF8&qid=1472158280&sr=1-3
—————–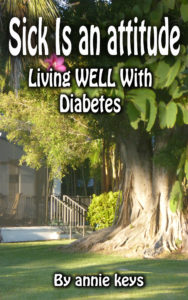 Sick Is An Attitude, Living WELL With Diabetes (self help)
Living "well" is so much better than merely living "with" Diabetes. Annie was diagnosed as a Type I Diabetic when she was10 years old. Now, after living well for 50 years as an insulin dependent, this author gives personal insight into how to live a fulfilling and active life as a Diabetic. Annie is NOT a doctor, NOT a health care professional; she is simply a person who tells about how to live well from her personal experience. Her writing has humorous life antidotes and includes personal insight, LOTS of practical information and encouragement. If you are, or know of, a person with Diabetes, this book will be a great read.https://www.amazon.com/Sick-Attitude-Living-WELL-Diabetes/dp/1484055381/ref=tmm_pap_swatch_0?_encoding=UTF8&qid=1472158280&sr=1-4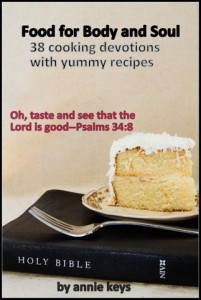 Food for Body and Soul (devotional COOKbook—devos with recipes NOT available on Kindle)
Cookbook has all 38 Devotions from the popular devotional book, "Food for the Soul" PLUS 70 of the author's favorite recipes, cooking tips and interesting food facts. Jesus often used food as illustrations of Biblical truth; probably because EVERYBODY eats. In this unique devotional, favorite recipes are matched with each devotion. A thoughtful gift for cooks who love the Lord and a great addition to your own cookbook collection!
https://www.amazon.com/Food-Body-Soul-Annie-Keys/dp/1500741892/ref=sr_1_3?s=books&ie=UTF8&qid=1472158788&sr=1-3&keywords=Food+for+Body+and+Soul
——————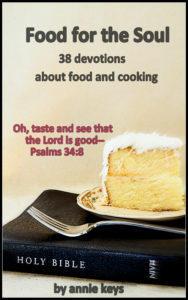 Food for the Soul (devotional –devos only, no recipes)
In scripture Jesus often used food as illustrations; probably because food is something that we all understand. "Food for the Soul," is 38 daily Christian devotions using food and humorous cooking experiences to illustrate Christ's love and direction. Also to be available as a cookbook with devotions included, "Food for Body AND Soul."
https://www.amazon.com/Food-Soul-Devotions-illustrate-Biblical/dp/1499782128/ref=tmm_pap_swatch_0?_encoding=UTF8&qid=1472158975&sr=1-1