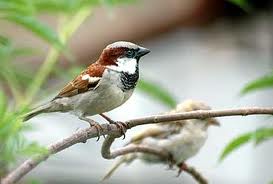 (This devotion was written by Carrie Messer; in loving memory of her Mam-maw) 
When I was really little, I was scared of the dark, open closet doors, monsters, you name it; I was afraid of it. 
I would lie in my bed at night trying to convince myself that it was just my imagination but nothing ever seemed to help. 
The place I always felt safest was in my Maw-Maw's big comfy bed.  She used to lay there with me and my sister and we would listen for the bell that started "Nightsounds" because the first one of us that heard it would get a quarter.   
While we waited, she would rub our backs and sing hymns to us.  Her favorite hymn was "His Eye is on the Sparrow".   She also taught us the 23rd Psalm and The Lord's Prayer.   
Ever since, when I have been afraid, I have heard her voice in my head reminding me that even though I might be afraid, the Lord is with me.  I remember that he knows the number of hairs on my head and that if he is watching the sparrows that he sees me and knows me too.  
The scriptures that she taught me as I fell asleep next to her have stayed with me through the years.  Even when I strayed from church as a young adult, I would hear her voice quoting scripture and praying.  
When my children were born, she began to sing those same hymns and quote those same verses with them.  Although Maw-maw recently went home to be with Jesus, her faith, her reassurances, and her favorite hymns and Bible verses are continuing on through her children, her grandchildren and her great grandchildren. 
Matthew 10:29-31 (KJV) Are not two sparrows sold for a farthing? and one of them shall not fall on the ground without your Father. But the very hairs of your head are all numbered. Fear ye not therefore, ye are of more value than many sparrows. 
Written in loving memory of Elsie Biggers (Maw-maw) July 5, 1926-October 22, 2009, by one of her beloved granddaughters, Carrie Messer.