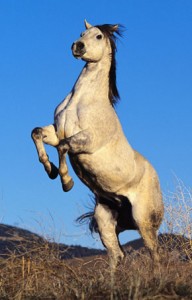 When Your Horse Bucks
Isaiah 41:10
When I was a young teenager, one of my friends at church had a horse. She invited me over to ride. I'd never been on a horse before and was excited about the adventure. 
She instructed me on how to handle different situations that could arise. Confident after listening to her experienced instructions, I mounted my steed. We set off down an easy trail near the barn.  
About the time I was feeling that I was in control and could enjoy the ride; a big black snake crawled out on the trail in front of us!  I'm not sure if the horse responded to the snake or to me yelling. The horse reared up and I dropped the reigns, grabbed the horse around the neck and hung on for dear life! 
My friend's Dad saw the whole incident, jumped on his own horse and took off after my run away steed. By the time he caught up with us, I was saddle bruised, brush scraped and absolutely terrified!   
Important lessons are learned in those trials where we have no control. When all we can do is just grab hold and hang on; we have no choice but to trust God. No matter what the trial of the moment, God will either walk with us through it, holding us up; or deliver us from the circumstances.  The Bible says that all things work together for our good; not "all things feel good".  
Sometimes, it is through the experienced pain of our own circumstances that we gain compassion to minister to others.  "I understand." can mean a lot to a heart that hurts. (II Corinthians 1:3-4)
God's direction for our life is often discovered in the wild ride of unplanned discovery.  Every life event comes with God's oversight; even the hard things.  
Isaiah 41:10  So do not fear, for I am with you; do not be dismayed, for I am your God. I will strengthen you and help you; I will uphold you with my righteous right hand.   
II Corinthians 1:3-4 Praise be to the God and Father of our Lord Jesus Christ, the Father of compassion and the God of all comfort,  who comforts us in all our troubles, so that we can comfort those in any trouble with the comfort we ourselves have received from God.
Prayer: Father, I get afraid sometimes, forgive me for running scared instead of standing strong on your Word. Help me to see what to do in every life situation so that I represent you in all life's circumstances.  Comfort me, encourage me and give me direction through your Word and your Holy Spirit. I love you. Amen