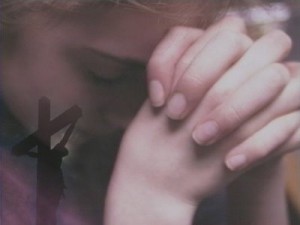 My grandson, Max, a first grader, was working on an assignment for school. 
He was frustrated because he couldn't figure out how to spell "ponta".  Not recognizing this word, I kept asking him to "say it again".   
He was close to tears of frustration; telling me again and again, "PONTA, mamaw, you know, PONTA!"    
I told him I was old, please be patient with me–and use it in a sentence please.  He said, "once a ponta time in the deep dark woods."   
Sometimes, life can be so confusing or painful that our heart searches for words to pray. The Word says that we are to pray continually, in good times, in bad times, without ceasing. (I Thessalonians 5:16-18)  But, on our face before God, our face wet with tears, we struggle to find words to express our need.   Life can hurt.
When Jesus was among men, he experienced how bad life can hurt. He knew rejection, poverty and temptation. (Hebrews 4:15)  Jesus wept when He heard the news of his friend, Lazarus', death.  (John 11:3-38)   
God knows our struggles and He cares about every thing that happens in our life! Our Lord knows the pain in our heart when we witness to loved ones and they walk away from a relationship with Jesus. Jesus wept over Jerusalem because they rejected Him and He knew the suffering that would result in that rejection. (Luke 19:41-44) 
God sent His precious Holy Spirit to direct us in our Christians walk. (John 14:25-26 & Galatians 5:22-26) No matter what our pain, frustration or failure, God cares and made a way to know, through His Spirit (ICorinthians 2:10-12), how to pray in God's perfect will.
Romans 8:26 In the same way, the Spirit helps us in our weakness. We do not know what we ought to pray for, but the Spirit himself intercedes for us with groans that words cannot express.