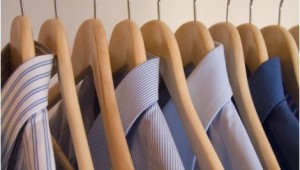 One of the first decisions every person makes each day is "What am I going to wear?" 
Wearing fashionable clothes and wanting to be attractive is not a sin when Godly standards are applied (Romans 13:14).   
I love how God's Word uses every day experiences, like putting on your clothes, to illustrate Biblical truth. Both women AND men are to "put on" compassion and humility as we would a garment (Colossians 3:12).  Just like we choose what to wear, we make a conscious decision to 'put on' our God clothing.   
When we choose to put on a garment, it's because we have taken the actions necessary to make that piece of clothing available. We, the church, become Christ like by the action of washing our hearts by the Word of God (Ephesians 5:26-27).    
When we make time to read God's Word and spend time in prayer, we choose to put on the "clothes" of Christ. Just like choosing what to wear each day, choosing the things of God is done daily.  
Colossians 3:12  Therefore, as God's chosen people, holy and dearly loved, clothe yourselves with compassion, kindness, humility, gentleness and patience.