Romans 12:1-2
My friend's kitty had to be taken to the veterinarian. Since my friend had a prior obligation, I said I'd do 'pet duty' for her so the kitty wouldn't have to be rescheduled.  At the Vet, it took me and a nurse to hold the kitty still on the table for the Dr. to examine. That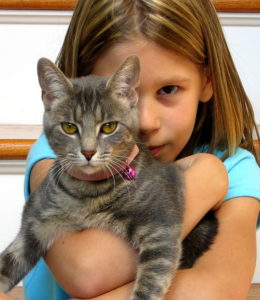 kitty would NOT stay on the table of its own free will!
That night, as I read my Bible, I read of how Jesus was the first living sacrifice. The animals killed on the altar as sacrifice for sin didn't have a choice. They were probably tied or held down, protesting like kitty had at being made to lie still. The sacrificial animal had no idea what was going on; it died and didn't care.
When Jesus died at Calvary, He made the choice to lay down His life (John 10:17-18). He went to Calvary and willingly submitted to death for my sins. He was not forced as an animal that had no clue of what was going on. He willingly lay down His life as a living sacrifice in full awareness of the pain and suffering his decision would bring.
Since Jesus gave Himself willingly for my sins, dying once for all (I Peter 3:18), when the Bible talks about ME being a "living sacrifice", what's up with that? The Apostle Paul told us to present our bodies (self-will) to God as living sacrifices. (1 Cor. 6:19-20; Rom. 8:9; Phil. 1:20-21; Rom. 6:13).
A "living sacrifice" means not just yielding my body but also my mind and my will to God. An actual physical choosing to do God's will rather than myself will, even when it is uncomfortable or difficult.
God's will is that I live as a witness; being responsible, working hard and reaping the benefits (John 10:10). Satan's will is for me to live in failure, to ruin everything I touch, to be a total, irresponsible loser. It is my choice whether I choose to yield my life as a living sacrifice or simply go along with the devil's plan of failure.
My biggest problem with being a living sacrifice is that I keep letting 'me' jump off the altar. Today, I will choose to serve God and make myself lay still, offering myself, as the apostle Paul instructed, as a living sacrifice, in submission to God's will.
Romans 12:1-2 says, "Therefore, I urge you, brothers, in view of God's mercy, to offer your bodies as living sacrifices, holy and pleasing to God – this is your spiritual act of worship. Do not conform any longer to the pattern of this world, but be transformed by the renewing of your mind. Then you will be able to test and approve what God's will is – his good, pleasing and perfect will."
Prayer: Father, help me to surrender myself to you. Open my eyes to see your direction and to understand you are sovereign in my life only if I agree to let you be the Lord of my life. Teach me, through your Word, to release my strong holds and live fully committed to you.  Send your Holy Spirit to direct me so that I know how to be a living sacrifice, wholly surrendered to you. Thank you. Amen.
Scripture References:
John 10:17-18 The reason my Father loves me is that I lay down my life—only to take it up again. 18 No one takes it from me, but I lay it down of my own accord. I have authority to lay it down and authority to take it up again. This command I received from my Father."
I Peter 3:18 For Christ died for sins once for all, the righteous for the unrighteous, to bring you to God.—
1 Cor. 6:19-20 Do you not know that your body is a temple of the Holy Spirit, who is in you, whom you have received from God? You are not your own; 20 you were bought at a price. Therefore honor God with your body.
Romans 8:9 You, however, are controlled not by the sinful nature but by the Spirit, if the Spirit of God lives in you. And if anyone does not have the Spirit of Christ, he does not belong to Christ.
Phil. 1:20-21 I eagerly expect and hope that I will in no way be ashamed, but will have sufficient courage so that now as always Christ will be exalted in my body, whether by life or by death. 21 For to me, to live is Christ and to die is gain.
Rom. 6:13  Do not offer the parts of your body to sin, as instruments of wickedness, but rather offer yourselves to God, as those who have been brought from death to life; and offer the parts of your body to him as instruments of righteousness.
John 10:10 The thief comes only to steal and kill and destroy; I have come that they may have life, and have it to the full.