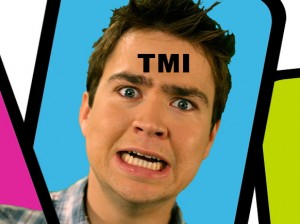 Kids today live in a different world than we lived in.
Today, the average 10 year old knows more about sex than their parents knew on their wedding night! 
Kids today have "Way Too Much Information."
Sit-coms depict the family unit as dysfunctional. Cartoons are bloody and full of mysticism.  Hollywood produces movies where kids are in charge and the parents are at best, stupid and irresponsible.  (II Timothy 3:1-5) 
Commercials and programming reinforces a sexually explicit lifestyle.  From fashion to food, sex is used as a sales media. A walk through the teen department in any retail store is like walking through a costume shop that specializes in prostitution and street gangs.  (Ephesians 5:3).   
In a world gone crazy, how do we protect our children? As parents, it is up to us to teach our kids about respect, responsibility and purity.  As parents, we are intimately aware of our child's maturity level, their ability to understand Christian principles and their every day exposure to worldly situations.  
Kids need instruction on how to recognize and walk away from playmates that participate in ungodly speech, attitudes and lifestyles. They need to know that it's ok to be pure. (Galatians 5:22-25).   
The youth pastor is not responsible for teaching your kids how to live in Christ. You are. The youth pastor's job is to encourage and reinforce living for Jesus.  He spends at best, a few hours a week with your teen; your life example is lived before your kids every day.  
If your teen is hanging out with teens that think cursing, drinking and slutting around is 'cool.' it is your responsibility to take whatever measures necessary to end those friendships.  As Godly parents, we are also required to take a serious look at our OWN friendships and activities.    
God does not expect us to be our kid's best friend. He DOES expect us to teach our kids how to choose a best friend. I promise that you will never stand before God and have to explain why you insisted on Godly principles in every area of your children's lives.  
Prayer is powerful and God is faithful.  Pray WITH and for your kids every day. Even though they roll their eyes at you, the presence of Christ in their home will be a stronghold when they are faced with temptation.  
Even kids raised in a Godly home with the reinforcement of strong Youth Pastors can make bad life choices.  God's Word says they will return. (Proverbs 22:6)
The battle for the heart and minds of our children is fierce and relentless.  Put your war clothes on.  
Ephesians 6:11 Put on the full armor of God so that you can take your stand against the devil's schemes
Prayer:  Father, I love you and I'm so thankful for the children you have put in my life. Open my eyes to know how to teach the young ones how to handle temptations and attitudes. Show me how to be a good listener and a good teacher. In Jesus' name, Amen. 
Scripture references:
II Timothy 3:1-5  But understand this, that in the last days there will come times of difficulty. For people will be lovers of self, lovers of money, proud, arrogant, abusive, disobedient to their parents, ungrateful, unholy, heartless, unappeasable, slanderous, without self-control, brutal, not loving good, treacherous, reckless, swollen with conceit, lovers of pleasure rather than lovers of God, having the appearance of godliness, but denying its power. Avoid such people. 
Ephesians 5:3 But sexual immorality and all impurity or covetousness must not even be named among you, as is proper among saints.
Galatians 5:22-25 But the fruit of the Spirit is love, joy, peace, patience, kindness, goodness, faithfulness,  gentleness, self-control; against such things there is no law. And those who belong to Christ Jesus have crucified the flesh with its passions and desires. If we live by the Spirit, let us also keep in step with the Spirit.
Proverbs 22:6  Train up a child in the way he should go; even when he is old he will not depart from it.