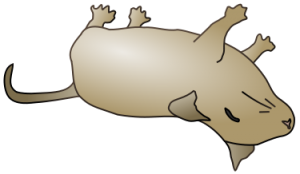 On the tenth day of the smell of putrefying flesh, arising from a mousie that had died somewhere in the walls of our home; I began to pray. Prayer has been punctuated with gagging–.  
The very things that I pray for deliverance from are sometimes the tool that God would use to illustrate His truth to my heart.  So, I'd been thinking, "IS there any lesson I can learn through the smelly carcass of a dead mousie?"   
Days of searching, spraying disinfectant and crawling around in dark places have brought nothing but the realization of my helplessness.  The advice of dear friends and loved ones brought the fellowship of suffering, but no actual relief.  
The stench was unbearable. Perhaps there was no lesson that could be had? Could there be no spiritual truth to be gleaned; was it simply an event?  Maybe, there was no real life illustration that could be made of this experience, no connection to the mysterious ways of an Almighty God?  
So, at my wit's end this morning, I simply asked God for mercy. No more searching for some way of connection to a spiritual truth; just simply, a cry for mercy.  By the time I was dressed and ready for coffee, the smell had started to go away.  By noon, not a hint of rotting flesh remained!   
Searching had yielded nothing. Spraying air freshener had only given the smell of decay a fruity over tone. Then, a simple call to God asking for His mercy, and the struggle to make things right was over. How can I not be reminded of how I was before I asked Jesus to forgive me of my sins? 
Not forgiven through works, not because I deserved it or was worthy; saved simply because I asked for God's mercy.  God uses the simple things of life to reveal timeless truths.  
Even the most mundane and annoying every day experiences can, in retrospect, bring humbling enlightenment.  Who'd have known the smelly carcass of a dead mousie COULD be used as a reminder of God's mercy?  Wow.  
I Peter 1:3-5 Praise be to the God and Father of our Lord Jesus Christ! In his great mercy he has given us new birth into a living hope through the resurrection of Jesus Christ from the dead, and into an inheritance that can never perish, spoil or fade—kept in heaven for you, who through faith are shielded by God's power until the coming of the salvation that is ready to be revealed in the last time.