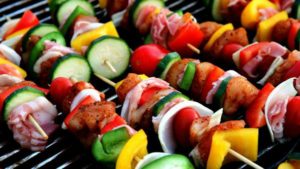 Making Healthy choices
II Peter 1: 4-9
I love going to the big warehouse stores like Sam's Club and Costco!  My favorite time to go is on the days when they have vendors set up with little cooking stations. One reason this is a favorite time to shop is because they have new and creative ways to prepare old favorites alongside samples of food I've never eaten.
As I pass by, the vendors offer me tasty morsels to sample. I love learning new methods and experiencing new tastes. However, there is also a "down side" to shopping on this "sample it" day.
The whole idea of this presentation is once I have a taste, I discover that it's so good I want to have more. Since I shop here often, I'm aware of the temptations and make sure I'm satisfied with healthy food before I get there so that the samples are eaten sparingly.  
Food is one of my weaknesses, I dearly love yummy food. An important part of being a mature adult is that I have the wisdom to know I should turn and walk away when I'm tempted. When I discipline myself to make healthy life style choices, I reap the physical benefits.
Now and then, I blow my plan totally, but I know how important it is to pick up and keep on going. Stumbling is not failure; the only time I fail is when I don't get back up and continue on. The Bible says that the fruit of the Spirit is SELF control. (Galatians 5:22-23) And Proverbs 24:16 says though I stumble, I will get up. Even though the verse refers to spiritual stumbles, I reference it for my physical fallings as well. God cares about EVERY area of my life.
In the same manner, when I discipline myself to make healthy spiritual choices, I reap the benefits of being spiritually stronger, healthier and more alert. I need to plan for Bible study and prayer the same way I plan how I will turn aside and walk away from temptation.
Life is about discipline, anything worthwhile requires discipline and planning to make it a routine part of my life. Just like physical exercise makes my body muscles strong, Bible study and conversation with my Lord exercises my faith and makes my spiritual muscles strong. (Romans 10:17)
The discipline of choosing healthy food choices makes a healthy body.  The discipline of spiritual choices makes a strong, effective witness and a successful life.  Make a plan, stick to the plan, reap the benefits; it's ALL good, "gotta get me some more of THAT!" 
II Peter 1: 4-9 
Through these he has given us his very great and precious promises, so that through them you may participate in the divine nature and escape the corruption in the world caused by evil desires.
 For this very reason, make every effort to add to your faith goodness; and to goodness, knowledge; and to knowledge, self-control; and to self-control, perseverance; and to perseverance, godliness; and to godliness, brotherly kindness; and to brotherly kindness, love.
For if you possess these qualities in increasing measure, they will keep you from being ineffective and unproductive in your knowledge of our Lord Jesus Christ. But if anyone does not have them, he is nearsighted and blind, and has forgotten that he has been cleansed from his past sins.
Prayer:
Lord Jesus, help me to discipline my life so that I make healthy choices both spiritually and physically. Open my eyes so I'm aware of temptation and can respond quickly with the fruit of the Spirit, self control. Help me to be strong and healthy in every area of my life. I love you. Amen
Scriptural References:
Galatians 5:22-23
But the fruit of the Spirit is love, joy, peace, forbearance, kindness, goodness, faithfulness, gentleness and self-control. Against such things there is no law.
Proverbs 24:16
Though a righteous man falls seven times, he will get up,but the wicked will stumble into ruin.
Romans 10:17
Consequently, faith comes from hearing the message, and the message is heard through the word about Christ.