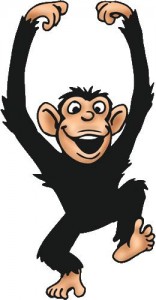 LIFT UP YOUR MONKEY HANDS
Hebrews 12: 12-13
While watching a nature program, I saw a monkey, standing hunched over, his hands hanging down, as if in a state of complete defeat. In my mind, I thought, "That's what I feel like, I have monkey hands." I began to pray, "Lord, lift up my monkey hands, restore my joy."
What could there possibly be, in my life, that would cause this monkey hands funk? When I read where David asked God to search his heart, (Psalms 139: 23-24) I whispered, "But, Lord, all my defeat is coming from the outside, not the inside." Never the less, I asked God to search MY heart. Soon, I learned that God had a different perspective.
After asking God to show me my own heart, the 'work' of the Spirit began. The Holy Spirit led me through scriptures that spoke to the reasons why I had monkey hands that hang down. I began to see things in my heart that I'd never seen before. As I read Psalms 139:1-6, I was reminded that God is aware of every circumstance, every disappointment and all of my failures.
After God had shown me all of my attitudes that need to be turned to HIS ways; He reminded me of the mercy and grace of the cross. As I faithfully spend time in God's Word and in prayer, those attitudes will be dismantled and replaced. God's Spirit will work through my obedience to change me from the inside out.
It is truly humbling to be reminded that no matter what I do, there is still more to be done. Equally humbling is the fresh realization that only through Jesus can I be worthy to be a companion of a perfect God. My shortcomings are many, my faults – too great to number; which is the reason I need a Savior.
Circumstances are often beyond my control. I have no control, at all, over other people; even though they might be the source of my pain. The only thing I DO have control over is my own attitude and my own heart. Through God's Spirit and His Word, He shows me not only how to face hard times, but how to come through victoriously.
Rarely does God change circumstances to make "me" comfortable.  Most often, He reveals how I should change "me" so that HIS presence can be more clearly seen through the trials of my life. He is Lord; He works all things out for my good. Because I trust Him, I CAN lift up my monkey hands and praise Him!
Hebrews 12: 12-13 Wherefore lift up the hands which hang down, and the feeble knees;  And make straight paths for your feet, lest that which is lame be turned out of the way; but let it rather be healed.
Prayer: Father, remind me of your presence in my circumstances during both the joyful and the difficult times. Show me that your plan for my life always works out in my favor.  Give me abundant joy in being your child. Amen.
Scripture references:
Psalms 139: 23-24 23 Search me, O God, and know my heart!    Try me and know my thoughts! 24 And see if there be any grievous way in me, and lead me in the way everlasting!
Psalm 139:1-18
O LORD, you have searched me and you know me. 2 You know when I sit and when I rise; you perceive my thoughts from afar. 3 You discern my going out and my lying down; you are familiar with all my ways. 4 Before a word is on my tongue you know it completely, O LORD.
5 You hem me in—behind and before; you have laid your hand upon me. 6 Such knowledge is too wonderful for me, too lofty for me to attain.