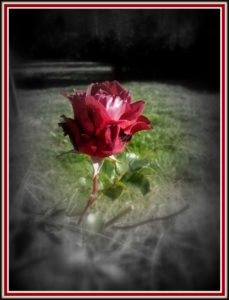 Life can hurt! God knows how painful life can be. The Gospels show our Lord experiencing the pain and frustrations of humanity. No matter what circumstances or disaster come in our life; God has made a way of healing through Calvary. (Isaiah 53:4-5) Often, God's comfort is not found where we expect it.
Our first grandchild died when she was 9 days old. Many months later, the emotional pain still came in waves that often left me too weak to stand. An evangelist that was known for his words of encouragement spoke at our church.
As the Pastor's Secretary, I had read his testimony of sensitivity to the ministry of the Holy Spirit. After a powerful sermon on God's faithfulness to heal the broken hearted; the speaker was to pray for those who had broken hearts. As he began his "calling out" of persons to pray for them, he walked toward me.
My heart was raw and tears came easily. Knowing that fear and depression could only be overcome by His Spirit, (2 Timothy 1:7) I stood to my feet. Exhausted from mourning for so long, I lifted my eyes, abandoned my pain to the Lord and waited for the healing balm to be poured out upon my aching heart.
The evangelist stood before me and whispered beside my face, "Do you have a breath mint? If you do, get in the front of the prayer line and hand it to me. And, thanks." For a moment, my mind froze, "WHAT? That's it? You're asking me for a breath mint?" I was at once, startled and furious; then a smile flickered in my heart.  Seriously, he did NOT just ask me to bring him a mint, –did he?
As I got in line, breath mint in hand, my heart began to giggle. God knew my pain and He also knew my personality.  Life can be so hard, but God is good, ALL the time. How can we worship through mourning?  How can we praise with a broken heart? Scripture reveals that Jesus suffered all the pains that we suffer, in order that He would understand what "life" feels like. No matter what has crushed us; death, betrayal, illness, cruelty, Jesus understands it all.
The Word says that laughter is good medicine and sorrow goes clean through to the bone. (Proverbs 17:22) If laughter is good medicine, that means that sometimes, laughing will be difficult to "swallow."  Yet, when we allow ourselves to seek the pleasure of God's company, He brings the things that will heal us.  To be happy really is a personal decision, one that requires not only decision but action.
Satan wants the trials of life to make us bitter. He wants to use circumstances to drive a wedge between us and our Savior. It is "I" that chooses; do I choose continued pain and mourning or do I choose worship and, in time, let myself be happy? (Romans 8:38-39)
The next time life leaves your heart broken, remember: There is NO thing that can separate us from our Lord, nothing; unless we allow it to. Pain and suffering requires mourning, but, in time, we must put aside the clothes of mourning and actively seek out those good things that God sends us to heal our brokenness.
Psalms 16:11 You have made known to me the path of life; you will fill me with joy in your presence, with eternal pleasures at your right hand
Prayer: My Lord, you and you alone know the depths of pain that I have suffered. Only you can see the tears that I cry into my pillow at night. I want to be happy again, I want to laugh and live and be whole. Take my pain, pour out your healing balm on my brokenness and give me a Spirit of praise and worship so that I can know joy in your presence. I love you and I thank you. Amen.
Scripture references:
Isaiah 53:4-5 Surely he took up our infirmities and carried our sorrows, yet we considered him stricken by God, smitten by him, and afflicted. But he was pierced for our transgressions,  he was crushed for our iniquities; the punishment that brought us peace was upon him, and by his wounds we are healed.
2 Timothy 1:7 For God did not give us a spirit of timidity, but a spirit of power, of love and of self-discipline.
Proverbs 17:22 A cheerful heart is good medicine,  but a crushed spirit dries up the bones
Romans 8:38-39 For I am convinced that neither death nor life, neither angels nor demons, neither the present nor the future, nor any powers, neither height nor depth, nor anything else in all creation, will be able to separate us from the love of God that is in Christ Jesus our Lord.