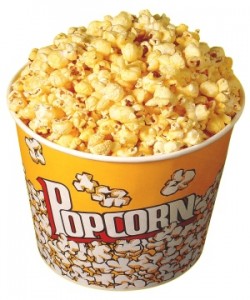 One Saturday afternoon, I took my two young grandsons to the movies.  We were running behind schedule because it had taken longer to eat lunch than I had planned. Hurrying into the theater with our tickets, I was all but dragging the boys toward the movie, which was about to start.  
Max, aged 6, with concern on his face, panted as we hurried along, "Mamaw, wait!  WAIT!  You forgot to get us popcorn!"  Breathlessly, I told him we did not have time to stop for popcorn, we needed to get a seat before the movie started. 
Horrified, Max stopped in his tracks, throwing his little arms back in dismayed explanation he said, "But Mamaw, popcorn is a very important part of my movie experience!" 
There is no way I could deny the little guy popcorn after a statement like that.  Popcorn in hand, we slipped into our seats just as the movie started.  As the screen jumped to life, I watched as he enthusiastically licked the butter off his fingers and I knew he was right.  Popcorn IS a very important part of his movie experience. 
In our Christian walk, having the Holy Spirit active in our life is an important part of our "God experience."  If we don't have the Holy Spirit as part of our God experience, like my young grandson seeing the movie even if denied the popcorn, we would still have a relationship with God.  We would still spend eternity with Christ as our Savior, but, like Max with no popcorn, a very enjoyable, very special part of our God experience would be left out.  
Regardless of the tradition you were taught, seek a deeper relationship with Christ.  Seek real intimacy with Jesus.  Don't be afraid to ask, God does not give "bad" gifts.   The Holy Spirit is a very important part of your "God experience." 
(Luke 11:.11-13) Which of you fathers, if your son asks you for a fish, will give him a snake instead?  Or, if he asks for an egg, will give him a scorpion?  If you then, though you are evil, know how to give good gifts to your children, how much more will your Father in heaven give the Holy Spirit to those who ask him?