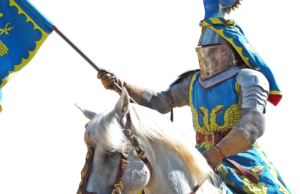 The Bible says we are conquerors through Christ. However, there's more to it than just acknowledging what the Bible says. 
There are some personal commitments that I must make in order to become so full of Jesus that I can be a conqueror.  
First, I commit to spend time in conversation with my Lord so that I'm aware of the holiness and majesty of God as a conqueror over every trick of satan. When I talk to God, like talking to anybody else, I begin to know Him; what He can do. 
Part of talking is listening so, I spend time in God's Word.  God speaks to me through His Word; both in my personal study and through doctrinally sound teachers and preachers.
When I purpose to the discipline of daily prayer and Bible study, through the Holy Spirit, I realize the heart of God so I can pray in knowledge of His will (I Corinthians 2:10). Like in any relationship, intimacy comes through time spent together.  
Satan can't keep me from having a relationship with my Lord. Nothing the devil does can stop me from taking the time to have intimacy with Jesus. Only one person can stop me from making the time for relationship that will make me a conqueror. That person is—-Me.
If I have not made the commitment to conversation (prayer) and Bible study, then, I'll never be victorious. In order to be a conqueror, I have to make a plan and discipline myself to follow that plan.
Romans 8:37-39  No, in all these things we are more than conquerors through him who loved us. For I am convinced that neither death nor life, neither angels nor demons, neither the present nor the future, nor any powers, neither height nor depth, nor anything else in all creation, will be able to separate us from the love of God that is in Christ Jesus our Lord.
Scripture Reference:
I Corinthians 2:10  these things God has revealed to us through the Spirit. For the Spirit searches everything, even the depths of God.
Prayer: 
Lord Jesus, thank you for conquering sin so that I can be victorious. Help me to listen to your Holy Spirit so I will make wise choices. Thank you. Amen.