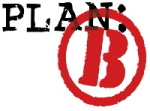 When I was a young girl, I loved to ride my bicycle. If you know me, you know that I'm all about "habit."  When I rode to my friend's house, I took the same street, the same way, every day, every time.
This would ordinarily be fine, except that there was a sharp curve in the road just before I returned to my house.  Without exception, no matter how hard I tried, every time I came to that sharp curve, I lost control and crashed my bike.
When I told my Dad the problem I was having, he told me a simple solution.  Instead of riding home on THAT street, I needed to make an alternate plan; Plan B.  I needed to go one street over and come home that way because the road was straight.  The answer was so obvious, yet I never saw it.
Temptation is like the "hard way bike route."  If I'm aware of a specific temptation and I know that temptation always takes me down; it's time to make another plan, Plan B.  Habits are hard to change; but not impossible (Philippians 4:13).  When I recognize sin, I can make that plan to turn aside when temptation comes.
God does not tempt us, ever.  (James 1:13)  We are tempted when we want something we shouldn't have. Instead of turning the temptation over to God, we inch closer and closer, looking first with one eye then the other.  (James 1:14)
There is no sin in being tempted. Even Jesus was tempted, yet He remained without sin.  Where sin starts is when I go from being tempted to reaching for the temptation. Within myself, I know my weaknesses and I also know if I'm weak in that area, God is strong and I can lean on Him (II Corinthians 12:9-10).
BUT—God will not keep me from sinning. I have free will; I can do whatever I want. When I recognize the things that push me over the edge, I can make "Plan B" ahead of time to avoid the temptation.  I know how satan works, he can't trick me unless I let him.
Those rare times when I do fall to the temptation, I have forgiveness and restoration through Christ.  However, the scripture is clear in James 1:15 that if I continue to choose sin, my own choices will result in death without Christ instead of redemption.
I Corinthians 10:13 No temptation has seized you except what is common to man. And God is faithful; he will not let you be tempted beyond what you can bear. But when you are tempted, he will also provide a way out so that you can stand up under it.
Prayer: Father, I'm so glad that you don't expect me to resist temptation on my own. Please, give me your Holy Spirit to show me how to recognize temptation and avoid it. Give me the strength to walk away and not look back. Help me to remember scripture that will give me added strength to resist temptation. Thank you for being strong for me.
Scriptural references:
Philippians 4:13 I can do everything through him who gives me strength.
James 1:13 When tempted, no one should say, "God is tempting me." For God cannot be tempted by evil, nor does he tempt anyone.
James 1:14 but each one is tempted when, by his own evil desire, he is dragged away and enticed.
II Corinthians 12:9-10 But he said to me, "My grace is sufficient for you, for my power is made perfect in weakness." Therefore I will boast all the more gladly about my weaknesses, so that Christ's power may rest on me. That is why, for Christ's sake, I delight in weaknesses, in insults, in hardships, in persecutions, in difficulties. For when I am weak, then I am strong.
James 1:15 Then, after desire has conceived, it gives birth to sin, and sin, when it is full-grown, gives birth to death.