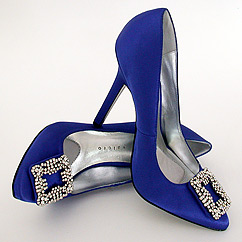 The only time I've ever had real issues with my "big girl" stature is when it comes to shoes. It is so disheartening when I see a feminine shoe in the sales window and find out it doesn't come in my size.
Even worse is when it DOES come in my size and it looks like a river barge! Those fragile sexy little straps sparkling with rhinestones look like a dog collar with hubcap studs when they come in a size ten. Mercy.
There is one pair of shoes that looks good whether in a size 2 narrow or a size 12 extra wide; the shoes of the gospel of peace. I love when God uses everyday things to illustrate spiritual truth!
In Ephesians 6: 5  "–and with your feet fitted with the readiness that comes from the gospel of peace-,"  the Word describes putting on the readiness that comes from the Gospel as you would put on a foot covering.
We refer to the shoes of the Gospel of peace but what the scripture is really illustrating is the need for preparation so that we can go out and share God's Word. No matter what your personal style of witness is, the readiness, or covering through Bible study and prayer, is the key to successful witness.
Without the understanding of the need for salvation, there is no sense of urgency to go out into the world to share the Gospel. Spend time in God's Word, seek His face in prayer; ask for the direction of the Holy Spirit. When you are prepared by the awareness of the need to witness, you'll be ready to walk it out.
Romans 10:15 And how can they preach unless they are sent? As it is written, "How beautiful are the feet of those who bring good news!"
Prayer: Father, put within my heart a concern for the lost. Help me to realize the importance of personal testimony and responsibility. By your Holy Spirit, show me how to witness to those you have put around me. Help me to be sensitive to opportunity and obedient to direction so that I can lead many to Jesus. Thank you for showing me how to share your Word..
Scripture references:
Ephesians 6: 14-17 Stand firm then, with the belt of truth buckled around your waist, with the breastplate of righteousness in place, and with your feet fitted with the readiness that comes from the gospel of peace. In addition to all this, take up the shield of faith, with which you can extinguish all the flaming arrows of the evil one. Take the helmet of salvation and the sword of the Spirit, which is the word of God.