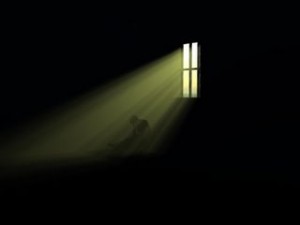 Do you remember the song, "This Little Light of Mine, I'm gonna let it shine! ?  Hide it under a bushel NO! I'm gonna let it shine!"
One of the greatest desires of a Christian's heart should be to 'let their light shine' in a dark world so everyone can see Jesus and want what we have.   
It sounds so simple, "let your light shine". Ask any Christian if they love Jesus and they will answer "yes".  But, do I love Him enough to actually live as His light in a lost world?  To make daily life style choices that shine with the light of Christ?  
Living for Christ day by day is about ordinary daily life style choices that illustrate my relationship with Jesus.  I'm the light of Christ shining in the darkness; but only when I acknowledge Jesus in my attitudes, activities and actions.  Do those around me see the light of Christ shining through me? 
Ask most Christians if they would be committed enough to die for Jesus and they will give a resounding "YES"! But, living for Christ is where we lack commitment. 
Saying, "I love Jesus", is easy. But, if I don't have the strength to live for Jesus in front of my friends, in my work place and within my family how could I think I'd have the inner strength to stand in front of a firing squad?   
Sure, I say that I would stand up and proclaim, "I'll die for Jesus".  But, if I don't have the commitment to live for the Lord every day, how can I think I'm so committed I'd actually die?  Is my light shining, really? 
Matthew 5: 14-16 "You are the light of the world. A city on a hill cannot be hidden. Neither do people light a lamp and put it under a bowl. Instead they put it on its stand, and it gives light to everyone in the house. In the same way, let your light shine before men, that they may see your good deeds and praise your Father in heaven.