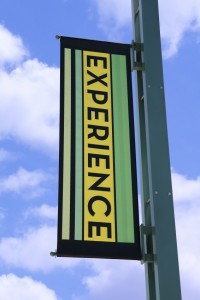 One of the hard things about finding first time employment is everyone wants you to have experience!  BUT, nobody is willing to hire you so you will get that experience!   
Life isn't like that. We get experience whether we want it or not; it's called, "living". An intimate relationship with God also can develop through 'living'.  
Experiencing God's faithfulness doesn't come just through answered prayer. The deepest awareness of God's presence is often seen in loss and suffering—need and poverty. God's faithfulness isn't proven just when good things happen.   
Obviously, it's easier to praise God when life is good and our heart is dancing with joy. But the real test of relationship with our Lord comes when we stand with tears running down our face. Psalms 18:1 I love you oh Lord, my strength.  
The praise that comes when I have sought Jesus in the silence of exhaustion and the agony of a broken heart is a sacrifice of praise. (Psalms 116)  In Hebrews 13:15 we read that a sacrifice of praise is the fruit of lips that openly proclaim the name of Christ. 
When I praise God in full knowledge of His awareness and His allowance (Job 1) of ALL things that happen; I read the Psalms with new understanding. Ps. 139 "Oh God, you know me, when I stand up, when I sit down–."  
During those times when my life hurts and I experience great need, is when I share in the suffering of the cross.  If we share in His sufferings (Romans 8:17), we are prepared for ministry to a lost world, and, to each other.  
II Corinthians 1:3-4  Praise be to the God and Father of our Lord Jesus Christ, the Father of compassion and the God of all comfort, who comforts us in all our troubles, so that we can comfort those in any trouble with the comfort we ourselves receive from God.