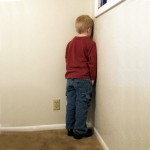 This afternoon, I was spending time with my grandson, who is four.  He was playing with his toys when he jumped up, ran to the corner and stood there, as if being disciplined.  Curious, I inquired what he was doing. 
He turned around and told me that he'd done something the other day and his mom had stood him in the corner.  Then, he'd done 'that' again and his mom stood him in the corner again! He took a deep breath, shrugged his shoulders and said, "SO, I thinking if I get over myself and stand in the corner FIRST, I'll be remembering not to do THAT again."   
God is merciful, but, as any good parent; He is also relentless. He will discipline us however many times it takes to bring us into a place of maturity in Christ. There are always lessons to be learned and disciplines to conform our life to; God is faithful.  
When we willingly yield to the Holy Spirit and begin to discipline ourselves, we struggle far less to live the Christ life.  God will discipline us, but He will never make us do what is right, that's our choice. 
Galatians 5:22-23 But the fruit of the Spirit is love, joy, peace, patience, kindness, goodness, faithfulness, gentleness and self-control. Against such things there is no law. Those who belong to Christ Jesus have crucified the sinful nature with its passions and desires
Prayer:  Father, please teach me how to have a heart that is sensitive to your voice.  Help me to yield my heart so that I walk in the direction that your Spirit leads. I love you and want to please you in every way I walk. Amen.