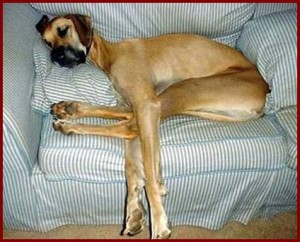 Luke 10:17
One weekend, I was house sitting for my daughter while they were out of town. When it came night time, I found their 170 pound Great Dane, Moo, in the bed, under the covers, her big doggie head on MY pillow.
Using my "in charge" voice, I told Moo to get OUT of my bed!  She never even opened one eye. She obviously thought that she belonged there; or wanted me to think so.  Not knowing any better, I figured she could be there because she was there and she seemed unconcerned with my concern.
During a phone conversation the next night, my daughter asked if Moo was being good.  I said she was being good but she sure was hard to sleep with.  My daughter told me that Moo was NOT allowed on the bed.
Moo knew that I was talking to "the boss" and as we spoke, she jumped on the floor. The big dog knew she wasn't going to be allowed to take my rightful place any more because she heard "the boss" rebuke her.
Satan does the same thing; that's why we have to know the Word of God.  Not even the archangel dared rebuke satan on his own. (Jude 1:9) When we rebuke satan without having the authority of Christ, satan ignores us.
Rebuking the devil is not a game; it's a challenge to the forces of evil and should not be done casually.  Without the intimacy of relationship that gives us authority, we are at least ineffective and at worst, we can be assaulted, as were the seven sons of Sceva! (Acts 19: 13-16)
We should study God's Word and have an intimate relationship with Jesus. Not until we know, through Bible study and relationship, the Lord's power over satan, can we speak with authority. Satan knows when we are speaking empty words!  We must know the authority we have in God's name as well as understand the sovereignty of God over our life circumstances.
Luke 10:17 The seventy-two returned with joy and said, "Lord, even the demons submit to us in your name."
Prayer: Father, help me to realize that all power and authority over the enemy comes from you. Within my own strength, I can do nothing and have no authority. As I read your Word and grow in knowledge, give me discernment and wisdom through the Holy Spirit so I know how to confront evil.  In Jesus' name. Amen.
Scripture References:
Jude 1:9  But even the archangel Michael, when he was disputing with the devil about the body of Moses, did not dare to bring a slanderous accusation against him, but said, "The Lord rebuke you!"
Acts 19: 13-16 Some Jews who went around driving out evil spirits tried to invoke the name of the Lord Jesus over those who were demon-possessed. They would say, "In the name of Jesus, whom Paul preaches, I command you to come out." Seven sons of Sceva, a Jewish chief priest, were doing this.
One day the evil spirit answered them, "Jesus I know, and I know about Paul, but who are you?" Then the man who had the evil spirit jumped on them and overpowered them all. He gave them such a beating that they ran out of the house naked and bleeding.