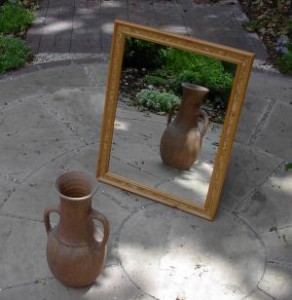 The other night, as I walked through the living room, I noticed that both lights in the grandfather clock were burned out. It just didn't make sense that both lights would burn out at the exact same time.  
I told Dan that BOTH the lights in the clock were burned out. He gave me that indulgent amused look. There is only ONE light in the grandfather clock—and it is in front of a mirror.  
Until the word of God becomes alive in our heart, it is only a reflection of Christ and not touchable by people on the outside looking in.   The Word of God has power; power to heal, power to restore, power to forgive, conqueror and build.
Once we act on the Word, it is no longer just a reflection but a living example of God's power to a lost world. Once the reflection becomes a living breathing example of Christ, the world can no longer look and walk away and forget what they saw.  
A mere reflection of Christ does not promote action.  The world sees many reflections of Christ but their hearts are unmoved. Like the light in the mirror, the reflection is seen but it has no lasting power by itself.
The world can walk away from a reflection. The light of Christ living through us bringing hope and healing to a lost world is real. The constant living example of Christ demands a decision.   
(James 1:23-25) Anyone who listens to the word but does not do what it says is like a man who looks at his face in a mirror and, after looking at himself, goes away and immediately forgets what he looks like