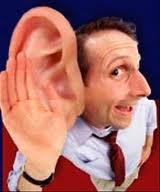 My computer is connected to an internet radio station. This enables me to listen to my favorite gospel music while I work at my desk.  
After awhile, a note comes up on my screen that says, "are you still listening?"
It's very easy to move the quiet music to the back of my mind so that it simply becomes, well, background music. 
It's also easy to move God's Word to the position of 'background' and not be consciously aware of life application. As I read God's Word, I need to stop every now and then and ask myself, "am I still listening?"
When I read the Bible looking for ways to support my lifestyle instead of instructions on how to live a Godly lifestyle, I've stopped listening.  II Timothy 3:1-9 tells me that this can be very dangerous!
I must be careful to not choose only the scriptures that suit me.  When I take it out of context and choose only those verses or applications that please me; I step out of God's grace and into the bondage of self. God gave His Word to teach me how to make good decisions, wise judgments and have right attitudes. (II Timothy 3:16) 
God gave us the Holy Spirit to convict us of sin and to reveal the mind of Christ to our hearts. When I read the Word of God with spiritual eyes instead of 'me' eyes, every verse is life changing.  When I read God's Word every day, with the discernment of the Holy Spirit to convict my heart; I'm changed.
Psalm 139: 23-24  Search me, God, and know my heart; test me and know my anxious thoughts. See if there is any offensive way in me, and lead me in the way everlasting.
Prayer:  Father, help me to remember to always listen to your voice by reading your word and spending quiet time in conversation with you.  I want my heart to always be steady in the knowledge of your leadership. I love you. Amen.
II Timothy 3:1-9  But mark this: There will be terrible times in the last days. People will be lovers of themselves, lovers of money, boastful, proud, abusive, disobedient to their parents, ungrateful, unholy, without love, unforgiving, slanderous, without self-control, brutal, not lovers of the good, treacherous, rash, conceited, lovers of pleasure rather than lovers of God— having a form of godliness but denying its power. Have nothing to do with such people.
They are the kind who worm their way into homes and gain control over gullible women, who are loaded down with sins and are swayed by all kinds of evil desires,  always learning but never able to come to a knowledge of the truth.  Just as Jannes and Jambres opposed Moses, so also these teachers oppose the truth. They are men of depraved minds, who, as far as the faith is concerned, are rejected.  But they will not get very far because, as in the case of those men, their folly will be clear to everyone.
II Timothy 3:16  All Scripture is God-breathed and is useful for teaching, rebuking, correcting and training in righteousness–