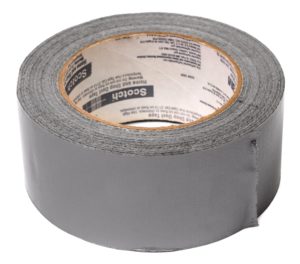 ANOTHER USE FOR DUCT TAPE
Today, I spent the day with three of our grandkids.  All day long, I kept looking at my grandson and trying to figure out what was different about his appearance. Today, as he was reading his library book, it struck me what the difference was.
Casually, I said, "Hey,  what happened to your eye brows?"  At the same time he said, "Nothing," his little sister said, "I didn't MEAN to, mamaw!"  For the last two days, I had noticed that she would obediently do whatever he asked. This, in itself, was totally unheard of.  Something was very very strange and it had to do with my grandson's eyebrows, or the lack of them.
Once more, I inquired, "So, what happened to your eye brows, bud?"  He got an extremely annoyed look on his face; glaring at his sister, who was once again mumbling about how it was an ACCIDENT.  He took a deep breath and with obvious controlled annoyance said, "I was sleeping on the couch and SHE put duct tape on them."  He looked over at his sister, who was muttering, "I didn't know it would do THAT."
In disbelief, I started shaking my head " What? No, no; she didn't!"  He said, "Yes, she DID, she put duct tape on my eyebrows while I was asleep then she pulled the tape off."  His forehead was beet red, obviously still suffering from the consequences of such a crude depilatory act.
Glaring at his sister, with no eyebrows for expression, he had this wide-eyed look of permanent amazement.  He said, "I want a cold drink."  His sister turned and ran to the kitchen and got the cold drink, opened it and humbly handed it to her brother. I could tell it was going to be a long 'payback' for my granddaughter–.
When we ask Jesus into our heart to forgive us of our sins, our sins are taken so far away from us, they can never be returned.  God has no payback!  However, we are often left to deal with the life consequences that are caused by our sin. But, thankfully, God provides us with the Holy Spirit to direct us for reconciliation and instruction for recovery as well as keep us away from future sins!
Psalms 103:12 As far as the east is from the west, so far has he removed our transgressions from us.
Prayer:  Father, help me to avoid unkind behaviors and to always think about results before I act. Those times when I make a mess, forgive me and help me to work my way through the circumstances, in the love of Christ. Amen.