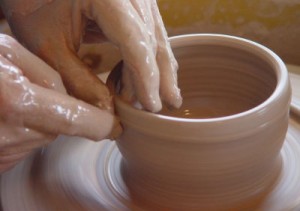 Have you ever watched an artist work on a potter's wheel?  It is absolutely stunning the way a common lump of clay is turned into a beautiful vessel.   
The potter's hands are deft and skilled as the pot is made. The potter and the clay seem to become one as the vessel moves and molds to the hands of the master.   
Sometimes with a light touch, sometimes with a heavy hand, the potter forms the clay into the vessel for whatever purpose is in mind.   
In II Corinthians, Paul uses the illustration of a pot in the hands of a master potter to show how we are molded by the hand of God. Christ within us is contained and defined by the 'vessel'.  
The purpose for which the vessel is used determines the type of vessel that is made. A vessel that is to hold water would be created differently than one that is to be used as a lantern.   
Our life events, both good and bad, are used by God to create the vessel He desires us to be.  For one person, the life events are planned to create tenderness toward the needs of others. The exact same event set in the life of another person builds strength and endurance.  
No matter what vessel you are created to be, God has a plan that will glorify Him through your life. We influence what the vessel of our life is used for by our own willingness to be formed into the image of Christ. (II Timothy 2:20-21) 
God's plan for our lives goes far beyond 'today'. Whereas our main concern is with our personal feelings and comfort right now; God has a plan for us that will encompass eternity.  
II Corinthians 4: 7-11 But we have this treasure in jars of clay to show that this all-surpassing power is from God and not from us. We are hard pressed on every side, but not crushed; perplexed, but not in despair; persecuted, but not abandoned; struck down, but not destroyed.
We always carry around in our body the death of Jesus, so that the life of Jesus may also be revealed in our body. For we who are alive are always being given over to death for Jesus' sake, so that his life may be revealed in our mortal body.