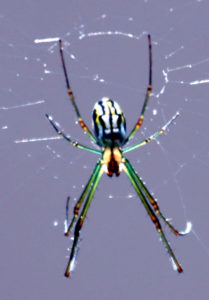 I Corinthians 10:13
There's only one way to handle housework. Do it! I Started with the kitchen; washing the sink and the counter tops. Bits of "stuff" were stuck in the drain. Extending my finger, I started to dig the yucky mystery blob out.
HEY! WAIT! SPIDER! I scream, I yell, I do a dance, the HUGE spider runs for cover!  I'm hollering, I'm spitting, I'm slapping at the counter with a coffee cup as the arachnid runs helter skelter.
Finally, I pinned the giant spider to the counter by ONE wiry leg. It raised the other seven at me; I could hear it growling! (ok, maybe I dramatize-). With a cry of victory, I aim and SPLAT!
The battle over, I calmed myself; gloating over the corpse smashed on my kitchen counter.  Somewhere in my mind, I knew if there was one spider, there were many more waiting for opportunity. (Rolling my eyeballs and shuddering.) But, for now, I was victorious.
It's the same way with sin.  When I'm victorious over one temptation, there are more, even bigger, temptations that lay ahead.  Unlike a skittering spider; Satan knows my weaknesses and carefully plans his attacks.
The devil's main goal is to ruin my relationship with Jesus (I Peter 5:8). If satan can weaken my relationship with Christ, he knows he has access to work discouragement, frustration and anger in my life.
God knows every temptation I will face and He is very aware of my human weaknesses. God never allows a temptation to come that He hasn't made a way of escape.  It's my choice whether I choose the escape or embrace the sin.
Like my adventure with the spider, rejoice in your current victory, but be aware that there are more temptations coming. Admit your weaknesses; we all have them! Be vigilant in prayer and Bible study so you can know how to be victorious when the attack comes.
I Corinthians 10:13 No temptation has seized you except what is common to man. And God is faithful; he will not let you be tempted beyond what you can bear. But when you are tempted, he will also provide a way out so that you can stand up under it.
Prayer: Father, help me to recognize sin and to understand Jesus has made me victorious over it. Help me to keep your Word in my heart and remind me that life is about choices. Satan can't make me do anything, whether to sin or not is a choice that I make, every day. Thank you for your Spirit to help me make the right decisions and avoid sin. Amen.
Scripture references:
I Peter 5:8 Be self-controlled and alert. Your enemy the devil prowls around like a roaring lion looking for someone to devour. (click to return to table of contents)