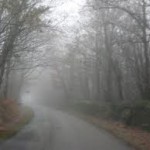 This morning, as I was driving through the heavy fog, everything familiar was concealed. The houses alongside the road, the landmarks of trees and buildings were all hidden in the fuzzy mist.   
Sometimes, in our Christian walk, we find ourselves in a spiritual fog. Not because we've done anything bad; we've been faithful in our Bible study and prayer.
Of course, it is always good to end every day with a prayer of forgiveness so as not to give satan any devices to use against us! But sometimes, for no obvious reason, we feel like we are caught in a spiritual fog. 
One of the peculiar things about fog is that it is eerily quiet. Landmarks are fuzzy or totally obscured and the silence can almost be felt on your skin.  When I find myself caught in a spiritual fog, I draw close to my Lord. Spending time reading Psalms as an 'extra' part of my daily devotions helps me to remember God's power and presence.  
When King David was being pursued by the enemy He would pause and think about Gods presence, His provision and direction. David included the word, Selah, in thirty-one of the thirty-nine Psalms with the caption "To the choir-master".  
Selah is found in the Psalms 71 times and in Habakkuk 3 it appears three times. It is a music term that means, "To pause or reflect".  "Selah" can also mean an instrumental prelude, you know, 'background music' while you "think about it". 
As David wrote the Psalms, out of his own past experience, he remembered God's power.  Because he had an intimate relationship with God, he could recall the Lord's majesty when he was frightened or lonely. Praise made God's presence come alive again, right then, "now", and he was encouraged and comforted.  
When I feel surrounded by fog, I read Psalms and pause to remember the last time God delivered, protected or glorified His presence in my own life. God inhabits (comes alive, has substance in) our praise, even when we feel surrounded by fog, God's presence can be real.   (Selah) 
Psalms 3:8 From the LORD comes deliverance. May your blessing be on your people.  Selah