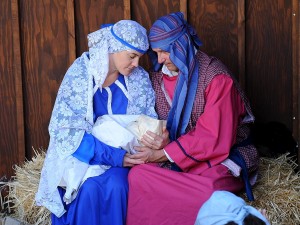 The Christmas that our grandson, Zac, was four years old, we took him to see the Christmas lights.  One of the churches was presenting a live Nativity.  As the car approached the enactment, I pointed out to Zac that the Nativity we were about to pass was "real."  
Zac, quick as he could, unsnapped his seat belt, ran the car window down, stuck his head out and waving both arms he shouted out, "Hey, baby Jesus, it's me, Zac!  You know me!" 
This innocent childish pronouncement, as endearing as it was, is in fact, true!  According to scripture, (Jeremiah 1:5) God even knew us before we were born.  From the beginning of time, God knew the plan he has for our life.  It is up to us whether we choose God's plan, or a plan of our own making.  Every day, everything we do, every place we go, every relationship we form, should be made in light of this knowledge. 
Perhaps, you don't know for sure God's actual plan for your life.  But, you do know the principals and precepts set forth in God's word.  Actively plan every area of your life using these Biblical guidelines.   "The steps of a good man are ordered by the Lord, and He delights in his way." (Psalms 37:23) 
Today, and every day, take time to sit down with your heavenly Father.  Read His Word, talk with Him.  He loves you so much!  He knows everything about you and has a plan for your life; a plan to prosper you and not to harm you, a plan full of hope, a plan with a future.  (Jeremiah 29:11) But, to know that plan, you must first make Him your Lord.
He knows you, do you know Him? 
(Jeremiah 1:5)  Before I formed you in the womb, I knew you–
Prayer:  Father, I want to know you. I want to receive the forgiveness of sin that your son, Jesus, paid for at Calvary.  Thank you for the gift of salvation that you sent on Christmas day.  I love you. Amen.
Scripture references
Psalms 37:23  The steps of a man are established by the Lord, when he delights in his way
Jeremiah 29:11 For I know the plans I have for you, declares the Lord, plans for welfare and not for evil, to give you a future and a hope.