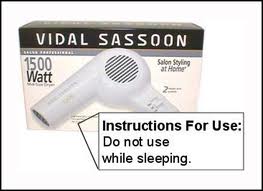 Have you ever read the safety labels on ordinary household items? 
Seriously, these are actual labels off of real products:  
Toilet Plunger: Caution: Do not use near power lines
Dremel Electric Rotary Tool: This product not intended for use as a dental drill
Hair Coloring: Do not use as an ice cream topping
RCA Television Remote Control: Not Dishwasher Safe
Hair Dryer: Don't dry hair while sleeping
As I read those, I laughed.  On a more serious note, how often do I "use" the Word of God as I should?   
Studying God's Word is always important.  But, as with any other useful household item; it must be used wisely and for the use intended.  
The Bible has wise counsel for every situation, every circumstance and every relationship.  However, I can't read just a line here, a chapter from this book, a sentence from that chapter and know God's will.  To do so can be dangerous to my spiritual, emotional and financial well being.  
There is no problem that I will face in this life that isn't addressed in God's Word. But, in order for the Word to work in me and through me, I have to read it daily and read it all, not just choice parts.  
I Corinthians 2:8-11 says the Holy Spirit searches the mind of God and knows His will. James 1:5 says if we seek wisdom, ask and we will receive it. Prayer and Bible study go hand in hand when seeking God's direction.  
When I read my Bible, seek the direction of the Holy Spirit and talk with God in prayer; God reveals His will for my life. The Bible is for every day use, a handbook for successful living; when used properly. .
II Timothy 3:16-17  All Scripture is God breathed and is useful for teaching, rebuking, correcting and training in righteousness, so that the man of God may be equipped for every good work.